U.S., China Defense Chiefs Mend Frayed Military Ties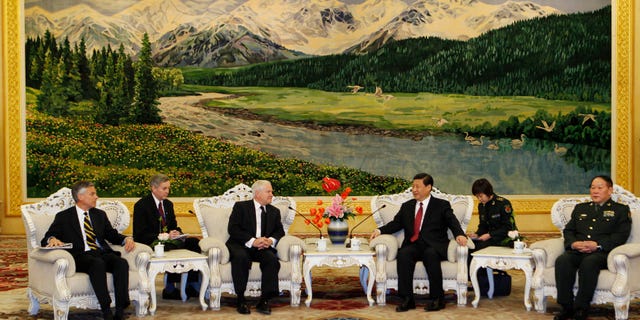 BEIJING – The U.S. and Chinese defense chiefs took a step Monday toward mending frayed relations between their powerful militaries, though China warned ties could be cut again if Washington does not heed Beijing's wishes.
Military contacts are fewer and less substantive than U.S.-Chinese interaction in the economic, political and diplomatic arenas, and both nations wanted to put a better face on the military relationship ahead of a high-stakes visit to Washington by Chinese President Hu Jintao next week.
The agreement stops short of the robust cooperation sought by Washington, and China pointedly refused to promise that friction over U.S. arms sales to Taiwan might not interfere.
U.S. Defense Secretary Robert Gates and Chinese Defense Minister Liang Guanglie agreed after a morning of talks Monday to broaden some of their fragile military contacts and to study ways that the two nations might build a more formal structure for future talks. They set up a working group to look at establishing the larger and more enduring framework Gates wants.
Gates said the two nations agreed that military ties should be "solid, consistent and not subject to shifting political winds," and he said he is sure that China's People's Liberation Army is behind the idea "as much as I am."
The sometimes hidebound PLA has resisted more regular contact out of apprehension or embarrassment, and Gates has said before that China's political leadership was quicker to see the value in better military ties with the United States.
The reluctance was evident Monday, despite Gates' optimism. The United States has been pressing China to give a firm date for the planned visit of China's chief of the Army general staff to Washington. Liang would not be pinned down, announcing only that a visit would happen sometime in the first half of 2011.
The agreement marks an end to a rocky year in which Beijing cut off defense ties with the United States over arms sales to Taiwan, the democratic island that China claims.
"On that, China's position has been clear and consistent," Liang said. "We are against it."
The arms sales "seriously damaged China's core interests, and we do not want to see that happen again," Liang continued.
"We hope that U.S. arms sales will not again and further disrupt," military ties or the overall relationship, Liang said.
Liang, an Army general, repeatedly warned that the United States should consider China's perspective.
The two nations also agreed to wider cooperation in such noncombat areas as counterterrorism and counter-piracy operations.
The United States has argued that a more formal arrangement would benefit both nations and help avert crises. More formal contacts and cooperation, including joint exercises and training, might also make it less likely that China would walk out on the arrangement.
Gates' four-day trip to Beijing includes meetings with the top political and military leadership and a visit to a Chinese nuclear weapons base.
Both governments are trying to smooth over substantial friction over trade, North Korea's and Iran's nuclear programs and China's generally more assertive diplomatic posture.
A rapid build-up of the Chinese military has fueled perceptions of aggression, unnerved China's neighbors and caused Washington to insist Beijing more clearly explain its intentions.
China has made strides in building a new stealth fighter jet, and Washington is also concerned about a new ballistic missile that could theoretically explode a U.S. aircraft carrier nearly 2,000 miles (3,200 kilometers) out to sea. China has also apparently beaten U.S. estimates to develop that weapon.
Gates told reporters traveling with him to Asia on Sunday that China had the potential to "put some of our capabilities at risk."
"We have to pay attention to them. We have to respond appropriately with our own programs," Gates said.
At their news conference Monday, Gates and Liang denied their governments are entering an arms race. Liang, dressed in his military uniform, animatedly defended China's growing capabilities, calling them entirely appropriate and consistent with China's rise as an economic and political power.
While both sides try to pave the way for a successful Hu-Obama summit, economics and politics also are aggravating strains between the world's superpower and the fast-rising new power.
Chinese trade data released Monday showed exports swelling nearly 18 percent in December and more than 30 percent for all 2010, though surging imports narrowed China's overall trade surplus. The still-high surplus is likely to add to pressure on the Obama administration to penalize Beijing for trade and currency policies that some economists and U.S. lawmakers call unfair.
A defense spending authorization signed by Obama on Friday wades into the fair-trade battle. The act effectively prohibits the Defense Department from buying solar panels made in China, a leading supplier, by requiring the Pentagon to purchase panels made in the United States or from countries that have joined an international trade agreement that Beijing has not signed.
The spending measure also orders Gates to come up with a plan to ensure secure U.S. access to critical elements known as rare earths that are crucial to some weaponry and other high-technology products. China is the world's biggest supplier but has restrained exports, citing environmental degradation from mining. Critics contend Beijing wants to drive up prices and demonstrate its control over vital commodities.