U.N.: Israeli Troops Were in Own Territory When Lebanon Opened Fire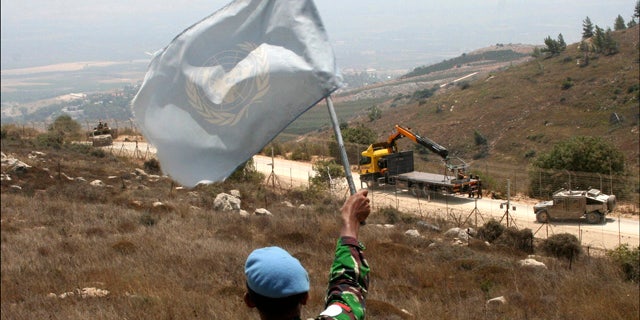 DEIR EL-ZAHRANI, Lebanon -- U.N. peacekeepers said Wednesday a cypress tree an Israeli soldier was cutting down just before a border clash with Lebanese soldiers erupted was in Israeli territory, contradicting Lebanese claims that their frontier was breached.
The clash Tuesday left a senior Israeli officer, two Lebanese soldiers and a Lebanese journalist dead and was the most serious since Israel and the Iranian-backed Lebanese group Hezbollah fought a brief war in 2006. It was a stark reminder of how volatile the border remains, even though both sides appeared to be trying to restore calm and prevent an escalation.
The Israeli soldier was cutting down the tree -- something Israel does occasionally to improve its sight line into Lebanon -- when Lebanese forces opened fire. The Lebanese army and a witness said U.N. peacekeepers intervened to ask the Israeli to stop cutting the tree, but Israel refused. UNIFIL, the peacekeeping force in southern Lebanon, has not commented on that.
Both sides claimed the tree was in their territory.
Lebanon acknowledged Wednesday that the tree was south of an official, U.N.-drawn boundary known as the Blue Line separating the countries. The line was drawn in 2000 following the end of a two-decade Israeli occupation of south Lebanon that began with a war in 1982.
However Lebanese Information Minister Tarek Mitri said his country disputes the Blue Line demarcation in certain areas, including the village of Adeisseh where the clash took place, and saw Israel's act in as a clear provocation.
"UNIFIL established, however, that the trees being cut by the Israeli army are located south of the Blue Line on the Israeli side," said force spokesman Lt. Naresh Bhatt. He said the peacekeepers were still investigating the clash.
Israel said the U.N. announcement clearly corroborated its version of events.
"Our routine activity yesterday was conducted entirely south of the frontier on the Israeli side and that the Lebanese Army opened fire without any provocation or justification whatsoever," government spokesman Mark Regev said.
Tensions along the border have risen in recent months. Israel claims Hezbollah, a powerful force within Lebanon, has significantly expanded and improved its arsenal of rockets since their 2006 war with help from its allies Syria and Iran.
However Israeli Defense Minister Ehud Barak sought Wednesday to calm the situation.
"I hope we will have a quiet summer and things will return to their normal course," he told Israel Radio.
An Israeli military spokesman said the army was continuing operations as usual in the area and pruning more trees on Wednesday. He spoke on condition of anonymity in line with military regulations.
Mitri, the Lebanese minister, said Lebanon had been notified in advance of Wednesday's pruning under UNIFIL supervision and approved it. He said if Israel had done the same on Tuesday, "we wouldn't have had the escalation."
Israeli Foreign Ministry spokesman Andy David said the army was surprised by the violence because Israel carries out maintenance on the border regularly.
"Once a week, the army prunes bushes and trees on the border in coordination with UNIFIL, which coordinates with the Lebanese," David said. "There was nothing unusual in the procedure."
The border area where the clash took place has been a point of tension between the two countries in the past few years with several small incidents during which Lebanon accused Israel of crossing or encroaching on Lebanese territory.
"While (Lebanon) has respected the Blue Line and committed itself to respect the Blue Line, it has always affirmed that the Blue Line is not the international border and there are areas south of the Blue Line that are Lebanese territory," Mitri told reporters in Beirut. "The area where the tree was to be cut yesterday ... is south of the Blue Line but is Lebanese territory."
A fence that Israel erected may contribute to the confusion about which territory the tree is in. An Associated Press photo from Tuesday shows an Israeli standing on a crane reaching over the fence and into a wooded area, angering people on the Lebanese side.
But the fence does not match the Blue Line boundary in all places.
Lebanese and Israeli army officers and UNIFIL planned to meet later Wednesday along the border, the U.N. force's spokesman Andrea Tenenti said. The gathering had been planned before Tuesday's fighting, but it has taken a new urgency now.
Hezbollah did not take part in the latest violence, but the group's leader, Sheik Hassan Nasrallah, said Tuesday night that his forces would not stand by idly if Israeli troops ever attack Lebanese forces again.
Adding to the friction, more than 70 people in Lebanon have been arrested since last year on suspicion of collaborating with Israel.
In Beirut, security officials said Wednesday a former army brigadier general was detained on suspicion of spying for Israel a week after a current lieutenant colonel was arrested also on suspicion of collaborating with Israel.
Also Wednesday, funerals were being held for those killed Tuesday.
In the southern Lebanese village of Deir el-Zahrani, hundreds turned out as Lebanese Sgt. Abdullah Tufeili's coffin was carried through the streets.
His 3-year-old daughter, Zahraa, and 6-year-old son, Mohammed Jawad, marched behind their father's coffin draped in Lebanon's white, red and green flag as a military band played funeral music.
As Tufeili laid to rest in his grave, his father, Mohammed, held back his tears as he shouted: "You are a hero, you are a hero!"