U.K. Arms Show Expels 2 Pakistani Exhibitors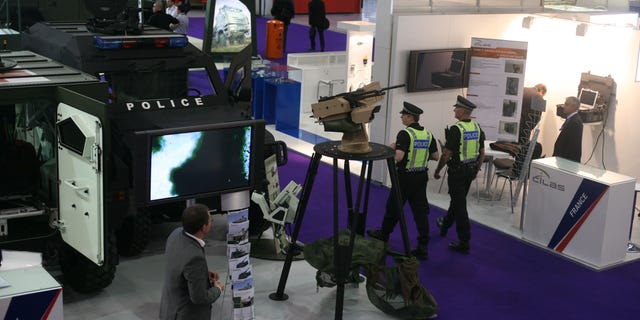 LONDON -- Two Pakistani weapons companies were expelled from a major London weapons fair after a British lawmaker discovered that cluster munitions were being advertised at their stands, the show's organizers said Saturday.
Green Party parliamentarian Caroline Lucas said she discovered brochures promoting the weapons at a pair of Pakistani stands pitched at London's Defense System and Equipment International exhibition held earlier this week.
Britain is a signatory to the international convention on cluster munitions, which prohibits the use, production, stockpiling or transfer of cluster munitions -- the name given to weapons such as bombs or shells which pepper large areas with shrapnel or mini-explosives. Human rights advocates say such weapons are inherently indiscriminate and often kill civilians.
The exhibition's website makes clear that ads for such weapons are banned from the show, but Lucas said she found brochures for 155 millimeter (about 6-inch) artillery-fired cluster bombs at the Pakistan Ordnance Factory stand and Pakistan's Defense Export Promotion Organization pavilion.
"I'm shocked that the British government seems unable or unwilling to police arms sales happening here on its own soil," she said in a statement, demanding that the arms fair be shut down.
The fair's organizers confirmed the discovery, saying the stands were dismantled after Lucas flagged the issue on Thursday.
Pakistani officials and a London-based technical attache for the Pakistan Ordnance Factory could not be immediately reached. On its website, the group describes itself as the Pakistani military's "largest defense industrial complex," composed of 14 factories and two subsidiaries.