Typhoon Departs Taiwan, Heads for China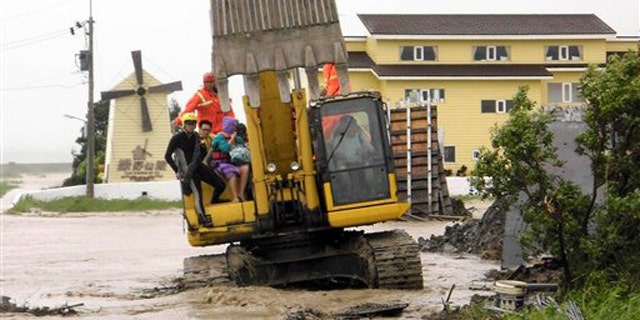 Typhoon Nanmadol headed to southeastern China on Monday after dumping more than 20 inches (half a meter) of rain in southern Taiwan, where wide swaths of agricultural land were flooded and some 8,000 people evacuated.
The storm skirted Taiwan's southwestern quadrant, remaining over the island for only a few hours. Its intensity had already diminished after pummeling the Philippines, where at least 16 people died and another eight were missing.
In Taiwan, there were no immediate reports of casualties. However, disruption to everyday life was extensive.
Some 30,000 households in southern and eastern Taiwan lost electrical power, while heavy rains closed scores of roads and bridges in the area. A number of southern and eastern counties shut down schools and offices and schools were also closed in the capital Taipei, which escaped the brunt of the storm.
As of 2 p.m. (0600 GMT), many domestic flights had been canceled, although almost all overseas flights were operating normally, according to the website of Taipei's main international airport.
The area most severely affected by the storm was Pingtung county in the southwest, where civil defense crews used small boats to rescue people from rural communities inundated by flash flooding. Dozens of homes were flooded.
CTI cable news station footage showed the aftermath of a series of landslides in Pingtung township and several homes partially submerged by water.
Pingtung is just to the south of the mountainous regions where more than 500 people died two years ago in mudslides spawned by torrential rains associated with Typhoon Morakot, the most devastating storm to hit the island in half a century.
A slow government response to that catastrophe prompted a fusillade of criticism aimed at President Ma Ying-jeou, who is up for re-election this January.
In the immediate wake of Morakot, Ma announced that he was reorienting the major mission of the island's armed forces away from defending against a possible Chinese invasion -- the two sides split amid civil war in 1949 -- and toward disaster relief. That was evident over the course of the weekend, as the military dispatched troops and rescue equipment to vulnerable areas, unlike during Morakot.
With its enormous cloud band, the slow-moving typhoon drenched the northern part of the Philippines with rain for days before pummeling the area with fierce winds, setting off landslides and floods and knocking down walls, the cause of the majority of casualties in that country, said Benito Ramos, who heads the Office of Civil Defense.