Two teens sentenced to 4 years in prison for slaying of former Miss Venezuela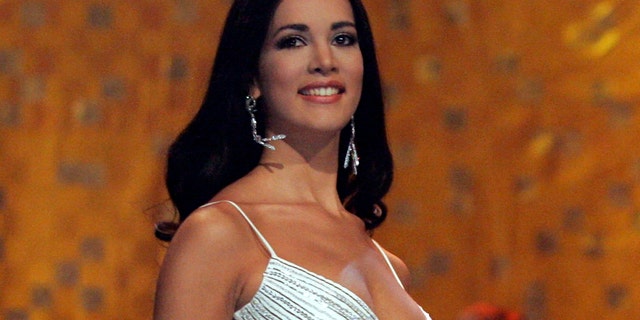 Two teenagers were sentenced to four years in prison for their role in the killing of former Miss Venezuela Monica Spear and her ex-husband last year during a robbery attempt gone wrong.
Venezuela's El Universal reported that the teens, one 15 and the other 17 years old, admitted taking part in the attack that killed the couple and wounded their five-year-old daughter in January 2014.
Monica Spear, 29, and Henry Thomas Berry, 39, were slain last January on a roadside near Puerto Cabello, Venezuela's main port, after their car broke down, the prosecutor's office said in a statement. Puerto Cabello is located in Carabobo State, about 210 km west of Caracas
The prosecutor's statement said their daughter was in stable condition after getting medical attention for unspecified injuries. Local media reports said the couple had a good relationship despite being divorced and were awaiting a tow truck when attacked.
Spear, born in 1984 in Maracaibo, was crowned Miss Venezuela in 2004 and the next year participated in the Miss Universe pageant in Thailand, where she came in fourth. She had acted in numerous soap operas for the U.S.-based Telemundo network, most recently "Pasión Prohibida."
She split her time between Venezuela and the United States and was on vacation when slain.
The two minors were part of ten people who allegedly took part in the robbery and murder. The first three pleaded guilty and were sentenced last September to prison terms of 24 to 26 years, while the five remaining suspects are currently on trial.
The 17-year old took part in the murders and committed aggravated robbery and the 15-year-old was charged with resisting arrest, theft and conspiracy, prosecutors said, according to Spain's Agence France-Presse.
Along with their prison terms the two were sentenced to six months' probation.
Venezuela has one of the world's highest murder rates and violent crime is so rampant that Venezuelans tend to stay home after dark. Spear's death triggered a wave of anger on social media directed at the populist government's poor record on crime. More than nine in 10 homicides go unsolved in this troubled oil-rich nation, according to the independent Venezuelan Violence Observatory.
Along with everyday citizens, hundreds of actors and writers took to Caracas' streets following Spear's death to demand protection from the killers that are giving Venezuela one of the world's highest murder rates.
The slaying of the beauty queen followed a pattern of late-night attacks carried out by disabling cars with obstacles placed on roadways.
The director of the Violence Observatory, Roberto Briceño, said the killings "bring into relief a common reality of daily life in Venezuela," where his nonprofit group counted nearly 45,000 people slain last year — 79 for every 100,000 Venezuelans.
"One need not necessarily be flashing around signs of wealth to be a victim," Briceño said.