Two teenage girls in Argentina viciously slashed in face for being 'too pretty'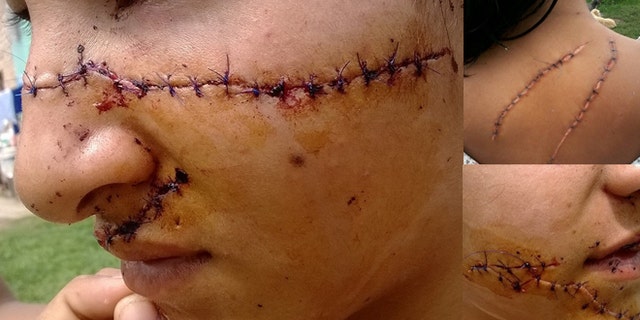 NEWYou can now listen to Fox News articles!
Two teenage girls in Argentina have been viciously slashed in the face – badly scarred – in separate attacks by other teenage girls, reportedly for being too pretty.
Last Friday, in the northern city of Formosa, 15-year-old Julia Alvarez was attacked by her two neighbors – sisters aged 16 and 18. The two girls hit and punched Alvarez, pulled out knives and slashed her multiple times along her face and her back.
"I promised my sister that her face would not stay that way and I'm going to follow through."
"We are going to leave your face like Chucky, we'll see who calls you pretty now," the girls said to Alvarez, according to Alvarez's sister Yeni, in reference to the horror movie character.
Yeni also told Clarín newspaper that as the girls insulted and beat her sister, they said it was for being "too pretty" and "too preppy." Yeni posted more than a dozen photos of her sister bandaged and stitched up on her Facebook page.
"She looks in the mirror and cries all of the time," Yeni said of her sister.
The 18-year-old accused of attacking Alvarez was detained by police. At her home, police found a switch blade, another knife and bloody clothes, according to Clarín. Her 16-year-old sister was not detained. The mother of the two alleged attackers says that a week before the incident, Julia had attacked her younger daughter when she was a month pregnant, causing her to lose the child.
Yeni says the mother of the two alleged attackers has threatened to kill her sister and to burn down their home. She says her family is afraid to leave the house. The family is seeking medical help for Julia from specialists in Buenos Aires.
Yeni told Clarín, "I promised my sister that her face would not stay that way and I'm going to follow through."
On the same night, a similar attack occurred more than 500 miles south of Formosa at a nightclub in Villa Constitución. A 16-year-old girl named Pilar was slashed in the face with broken glass by a 17-year-old girl named Karen.
The attack at the Empalme club left a 5-inch gash from her right eye to her ear. The victim's mother says her daughter could have lost her eye and that Karen, the alleged attacker, had menaced her daughter two months earlier.
"She threatened her that she was going to disfigure her for acting like she's pretty and preppy at Empalme," the mom told Clarín newspaper.
Karen is in custody and, according to the newspaper, posted on Facebook that she carried out the attack.