Twenty people killed after bus plunges off bridge into gorge in Mexico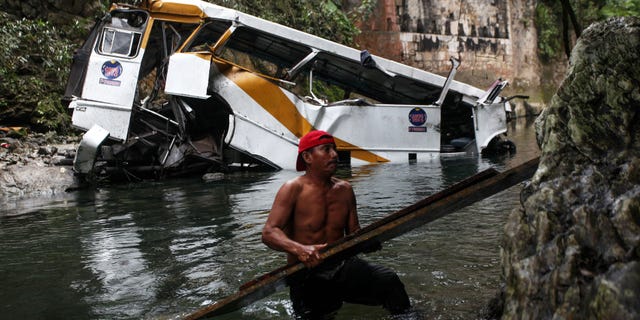 VERACRUZ, Mexico (AP) – Mexican officials say 20 people died when a bus plunged off a bridge and fell into a deep gorge.
The head of the civil defense office in the Gulf coast state of Veracruz says the accident killed 20 of the 45 people on board. Yolanda Gutiérrez said the bus was apparently carrying members of a soccer team when it skidded off a bridge on Sunday near the city of Córdoba.
The Veracruz state government said the bus was likely speeding, and the driver lost control when it went over a speed bump.
It was unclear if the bus driver survived. There was no immediate information on the condition of the 25 injured.
Mexican President Enrique Peña Nieto expressed his condolences to the victims' families in his Twitter account.
In two tweets he wrote, "I lament the tragic accident that occurred on Atoyac Bridge, Veracruz in which various people lost their lives ... My condolences to their loved ones and my hopes for a prompt recovery for those who were wounded."
Like us on Facebook
Follow us on Twitter & Instagram