Turkmenistan unveils golden statue of president as cult of personality gathers momentum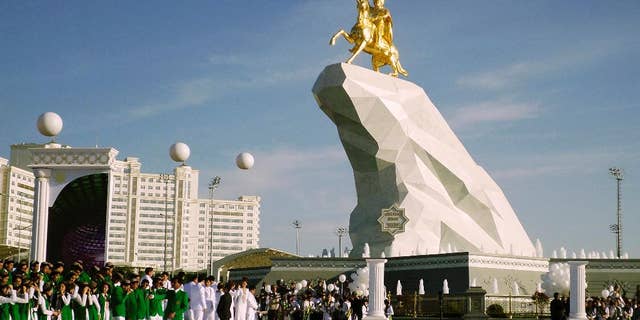 ASHGABAT, Turkmenistan – The isolated energy-rich Central Asian nation of Turkmenistan has unveiled a gold-leafed statue of the president in a gesture intended to burnish the leader's burgeoning cult of personality.
The 21-meter monument presented to the public Monday consists of a statue of President Gurbanguly Berdymukhamedov atop a horse mounted on a towering pile of marble.
Turkmenistan is dotted with gold-leaf statues to Berdymukhamedov's eccentric predecessor, who died in 2006, but this is the first such monument to the current leader.
Officials say the statue was built in response to public demand. The authoritarian former Soviet nation has no independent public movements, however, making such a notion improbable.
Berdymukhamedov, nicknamed Arkadag (the Protector), won the presidential election in 2012 with a landslide 97 percent in a vote criticized by election monitoring groups.