Turkey, Russia in war of words over Syria as military pounds Aleppo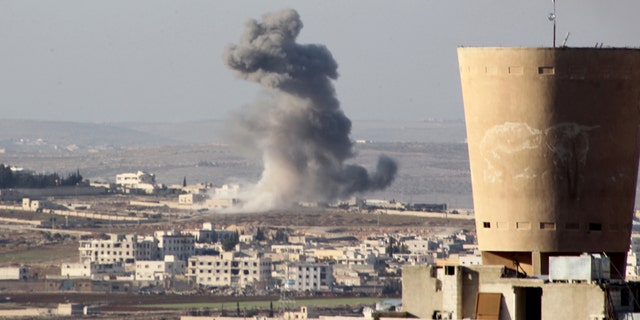 NEWYou can now listen to Fox News articles!
Turkish and Russian government officials engaged in a war of words Thursday with Moscow claiming that it has "serious grounds" to suspect Turkey is preparing for a military invasion of Syria.
Meantime, Turkey's prime minister accused Russia of committing "war crimes" with its support of Syrian President Bashar Assad's regime.
"The Russian Defense Ministry registers a growing number of signs of hidden preparation of the Turkish Armed Forces for active actions on the territory of Syria," Russian Defense Ministry spokesman Igor Konashenkov said.
Western Syria has been rocked in recent days by Russian airstrikes and a government offensive around the country's largest city, Aleppo.
"The root cause of this problem is the war crimes committed by the Syrian regime, and the war crimes committed by Daesh, by ISIS," Turkish Prime Minister Ahmet Davutoglu said on the sidelines of a fund-raising conference in London, according to Reuters.
"Those who are helping the Assad regime are committing the same war crimes," he added. "I am especially telling this today because Aleppo is under heavy attack by Russian airplanes."
On Wednesday, the U.N. suspended Syrian peace talks amid the renewed offensive by the Syrian government and Russia.
Turkey, a key supporter of Syrian rebels, said there was no point to the talks while Russia carried out airstrikes, Reuters reports. Russia said one of its military trainers was killed in Syria this week, but denied that it had boots on the ground there.
The statements came as a Syrian army source told Reuters that Aleppo would soon be encircled by government forces, with the help of the airstrikes.
A monitoring group said more than 500 targets were hit from the air by Syrian and presumably also Russian warplanes during this week's government offensive which captured strategic areas north of Aleppo.
Rami Abdul-Rahman of the Britain-based Syrian Observatory for Human Rights said Thursday that the bombing campaign was one of the most intensive in months. Russia began launching airstrikes late last year to back its ally, Syrian President Bashar Assad.
With the help of Russia and allies including Lebanon's Hezbollah and Iranian fighters on the ground, Assad's campaign is regaining ground in western Syria, home to several of the country's most important cities, Reuters reports.
A government takeover of Aleppo, 30 miles south of the Turkish border, would be a big setback to insurgents' hopes to topple Assad. The city has been disputed between government forces and rebels since 2012.
The international aid group Mercy Corps said it has been forced to suspend food distribution in several villages in northern Syria over the airstrikes and government military offensive.
Mercy Corps said Thursday that escalating air strikes have displaced thousands more people. It said about 21,000 Syrians fleeing the fighting recently arrived at the nearby Turkish border.
Mercy Corps says it feeds more than half a million people each month in Aleppo province. But in recent days, pro-government forces have retaken several villages north of Aleppo.
As part of the recent offensive, pro-government forces on Wednesday also broke a three-year-old rebel siege of two Shiite Muslim towns near Aleppo. On Thursday, residents embraced and cheered pro-government fighters entering the towns.
The Associated Press contributed to this report.