Turkey calls on US, allies to launch ground operation in Syria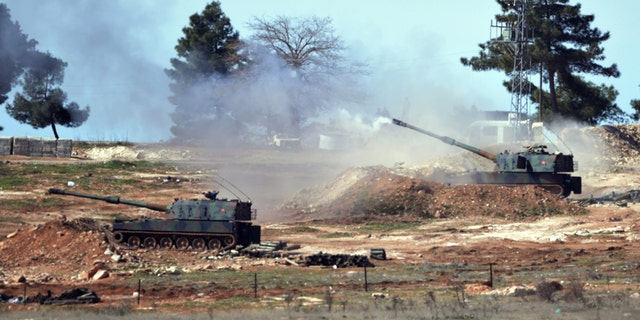 NEWYou can now listen to Fox News articles!
Turkey called Tuesday on the United States and its allies to take part in a joint ground operation in Syria, saying it is "impossible to stop this war" without a greater effort against a Moscow-backed Syrian government offensive.
"We want a ground operation. If there is a consensus, Turkey will take part," a Turkish official, who declined to be named in order to speak more freely, told reporters in Istanbul, according to Reuters. "Without a ground operation it is impossible to stop this war." There was no immediate U.S. response.
A Syrian government offensive in recent weeks, assisted by Iranian-backed Shiite militias and Russian airstrikes, has brought President Bashar Assad's forces within 15 miles of Turkey.
Syrian Kurdish fighters, regarded by Turkey as hostile insurgents, also have capitalized on the chaos by capturing positions held by Syrian rebel fighters and bolstering their presence along the border.
"Turkey is not going to have a unilateral ground operation ... We are discussing this with allies," the official said.
Turkey, a key NATO member, already has been opening up its air bases to the U.S. and other members of the coalition fighting the Islamic State terror group in Syria.
Last week, world powers meeting in Munich agreed to a pause in the fighting, but the apparent cease-fire is not set to begin until the end of the week, and it has not been approved by the warring Syrian parties, Reuters reports.
Meanwhile, Damascus says it aims to recapture the city of Aleppo and seal off the border with Turkey, which has been used as the main supply route into rebel-held territory.
On Monday, Turkey accused Russia of an "obvious war crime" after missiles hit two hospitals in Syria, killing at least 14 people, according to the Britain-based Syrian Observatory for Human Rights. Turkey also warned Kurdish fighters that it would face the "harshest reaction" if it tried to regain territory along the Turkish border.
Russia on Tuesday denied responsibility for the attacks, saying groups are making accusations without evidence.