Tsunami warning issued after 7.7 earthquake strikes British Columbia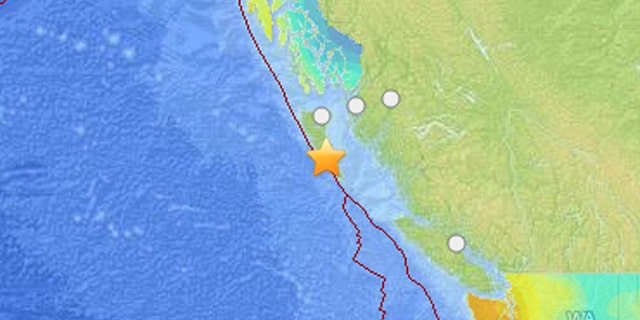 A magnitude 7.7 earthquake struck off the west coast of Canada and a tsunami warning was issued, authorities said, but there were no immediate reports of major damage.
The U.S. Geological Survey said the quake hit the Queen Charlotte Islands just after 8 p.m. local time Saturday at a depth of about 3 miles and was centered 96 miles south of Masset, British Columbia.
The National Weather Service issued a tsunami warning for coastal areas of British Columbia and southern Alaska. It said the warning area included Craig and Sitka, Alaska.
The first wave was expected to Craig about 9:10 p.m. local time, but it wasn't expected to be large, about 1-foot, said Bill Knight at the West Coast and Alaska Tsunami Warning Center.
"That's the predicted arrival time for the first wave, which typically is not the largest but nevertheless we don't expect the maximum wave height to be large," he said.
The USGS said the 7.7-magnitude quake shook the area and was followed by a 5.8 magnitude aftershock several minutes later.
The U.S. Coast Guard in Alaska said it was trying to warn everyone with a boat on the water to prepare for a potential tsunami.
Lt. Bernard Auth of the Juneau Command Center said the Coast Guard was working with local authorities to alert people in coastal towns to take precautions.
The quake struck 25 miles south of Sandspit, British Columbia, on the Haida Gwaii archipelago, formerly known as the Queen Charlotte Islands. People in coastal areas were advised to move to higher ground.
Urs Thomas, operator of the Golden Spruce hotel in Port Clements said there was no warning before everything began moving inside and outside the hotel. He said it last about three minutes.
"It was a pretty good shock," Thomas, 59, said. "I looked at my boat outside. It was rocking. Everything was moving. My truck was moving."
After the initial jolt, Thomas began to check the hotel.
"The fixtures and everything were still swinging," he said. "I had some picture frames coming down."
Natural Resources Canada said in a statement that a major earthquake was felt across much of north and central British Columbia but that there were no immediate reports of damage.
"I was sitting at my desk on my computer and everything just started to move. It was maybe 20 seconds," said Joan Girbav, manager of Pacific Inn in Prince Rupert, British Columbia. "It's very scary. I've lived here all my life and I've never felt that."
The quake was felt on the mainlaind in Prince Rupert, British Columbia, which is across the Hecate Strait from the islands.
"Everyone felt it here," said city recreation director Rudy Kelly, who was setting up an evacuation center for people from the city's low-lying areas. He said the work was in anticipation of a tsunami wave.
Prince Rupert resident Grainne Barthe said fire trucks had blocked access to the waterfront when she came out of a restaurant.
"Everything was moving. It was crazy," she said. "I've felt earthquakes before but this was the biggest. It was nerve wracking. I thought we should be going under a table."