Trump should embargo all Venezuelan oil imports, Argentina's president says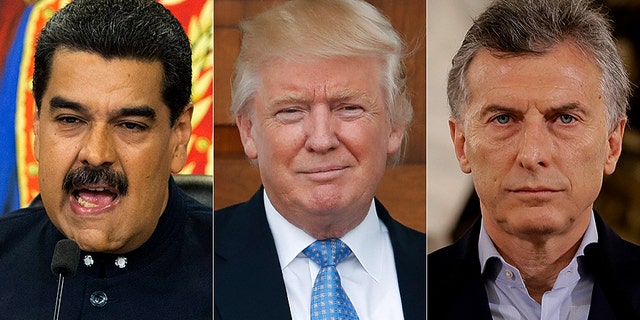 Argentina's president is calling on the Trump administration to implement a total embargo on oil exported from Venezuela to the United States.
Speaking to the Financial Times during a trip to New York City, Argentine President Mauricio Macri became the first Latin American leader to advocate publicly for the U.S. to impose such strict measures on Venezuela, and claimed that the move would enjoy broad support throughout the region.
"I think we should go to a full oil embargo," Macri said earlier this week. "Things have gotten worse and worse. Now, it's really a painful situation. Poverty is going up every day, sanitary conditions are getting worse every day."
Macri's call comes as Venezuela's now-chronic economic and political crisis becomes increasingly acute. Last week Venezuelan President Nicolás Maduro announced the country could no longer pay its foreign debts -- raising fears of a default unless the loans are forgiven. On the streets of Caracas and other Venezuelan towns and cities, citizens have for months had trouble obtaining everything from medical supplies to basic food stuffs.
Home to the world's largest oil reserves, Venezuela was for decades an economic leader in the Western hemisphere and, despite a massive gap between rich and poor, was a major destination for neighboring Colombians and other Latin Americans fleeing their less prosperous and more troubled homelands.
But in 1999 with the rise to power of late leader Hugo Chávez – whose social and Marxist economic reforms initially endeared him to the poor but also set up an unsustainable system of state spending – Venezuela's economy began to creep toward a crisis.
The situation has been exacerbated by Maduro, Chávez's successor, who took power in 2013, and by a plunge in global oil prices in 2015. By late summer of 2017, Venezuela's oil-dependent economy had shrunk by about 35 percent — more than the U.S. economy did during the Great Depression.
A widespread protest movement in cities across the country against the Maduro regime continues and has so far claimed more than 120 lives amid a violent government crackdown.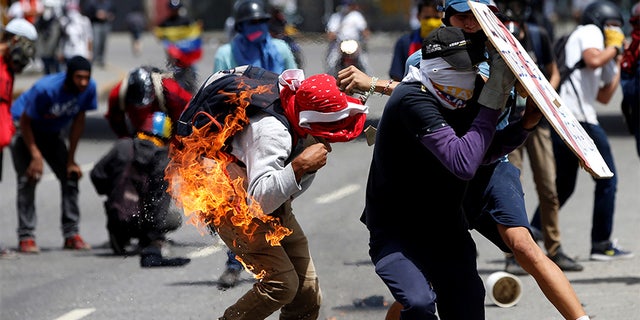 "It's just a terrible situation," Cynthia Arnson, director of the Latin American program at the Woodrow Wilson Center in Washington, D.C., told Fox News. "In the short term the Maduro government is only going to try to consolidate its control and the million-dollar question is where the cracks will show in the government."
The dire humanitarian crisis in Venezuela and Maduro's repression of opposition lawmakers and the media has led to widespread condemnation from countries around the globe.
Despite the claim by Argentina's Macri that Latin American leaders would support a full oil embargo, experts are skeptical. In addition, the U.S. is unlikely to implement a full embargo on Venezuelan oil given the disruption it would cause in America's own refining industry.
"Macri got away from himself when commenting on the sentiment of the region," Arnson said. "There is a deep concern about the situation in Venezuela and there is a deep dialogue about what to do, but there is also nobody calling for that tough of a line. That was an exaggeration by Macri because generally Latin America is opposed to any U.S. unilateral action."
Arnson also noted that any move to enact a full embargo against Venezuelan oil imports, which makes up 8 percent of U.S. crude supplies, would draw strong opposition from members of Congress representing Gulf Coast states.
Lawmakers in Louisiana and Texas, where Citgo has refineries that employ around 3,500 people, have already warned Trump that any more "unilateral sanctions" would be problematic for the U.S. economy, hurt the country's global competitiveness and raise oil costs.
Florida Democratic Sen. Bill Nelson asked the Treasury Department in a letter earlier this week to sanction the 545 members of Venezuela's newly elected constituent assembly and ban U.S. imports of oil until "constitutional order" is restored.
Since Trump took office in January, the president has approved numerous sanctions against members of Maduro's government and the country itself in an attempt to ratchet up pressure on Caracas to reverse course and meet opposition demands.
In August the White House announced new sanctions that prohibit U.S. financial institutions from providing new money to the Venezuelan government or state oil company PDVSA. The sanctions also restrict PDVSA's U.S. subsidiary, Citgo, from sending dividends back to Venezuela as well as ban trading in two bonds the government recently issued to circumvent its increasing isolation from Western financial markets.
On Thursday, the Treasury Department sanctioned 10 current and former Venezuelan government officials for allegedly "undermining electoral processes, media censorship, or corruption in government-administered food programs."
The Associated Press contributed to this report.