Trump, Kim Jong Un impersonators tossed from Olympics opening ceremony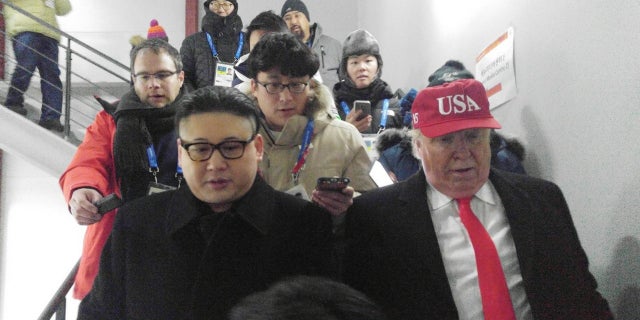 Two impersonators, bearing striking resemblances to President Trump and North Korean leader Kim Jong Un, were both booted from the Olympic Games' opening ceremony in Pyeongchang, South Korea on Friday.
The "Kim" impersonator told Reuters he and lookalike "Trump" were "getting along great." He declined to reveal his real name.
CLICK HERE TO READ MORE OLYMPICS COVERAGE

"We wanted to surprise everyone and bring world peace and then we're being escorted out by security guards, which I think is really unfair," he said. "Doesn't everyone want peace?"
The two wannabe leaders posed for pictures together as a symbol of thawing relations between the two nations amid tension over nuclear weapons and North Korea's missile program.
The real Trump did not attend the Olympic Games, but Vice President Pence is in South Korea as part of the U.S. delegation.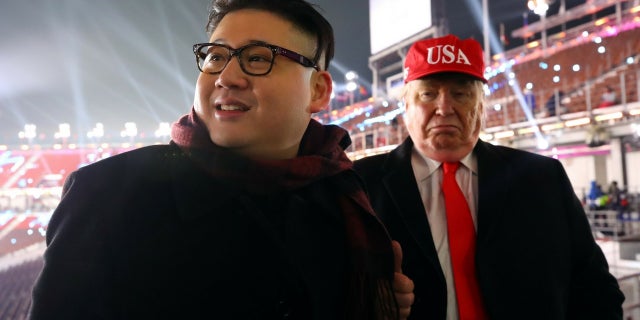 The real Kim Jong Un did not travel to South Korea for the games, either. Instead, his sister, Kim Yo Jong, attended and met with other world leaders, including South Korean President Moon Jae-in. However, she and Pence did not shake hands despite sitting only seats away from each other.
The dictator's lookalike wanted to be sure his "sister" was not getting thrown out as well.
"Is my sister getting the same treatment?" the man asked guards before being kicked out.
TONGA'S OIL-COVERED, SHIRTLESS OLYMPIC ATHLETE STEALS AGAIN IN PYEONGCHANG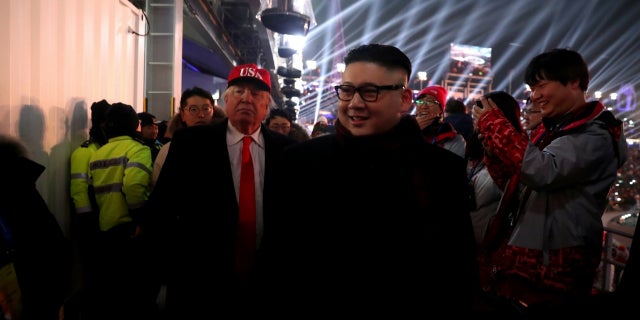 Earlier, at a VIP reception before the ceremony, Pence went around a table and shook hands with all the dignitaries except Kim Yong Nam, North Korea's 90-year-old nominal head of state. He also left when the unified Korean team marched in, The New York Times reported.