Truck slams into religious procession in central Mexico and kills 25, driver flees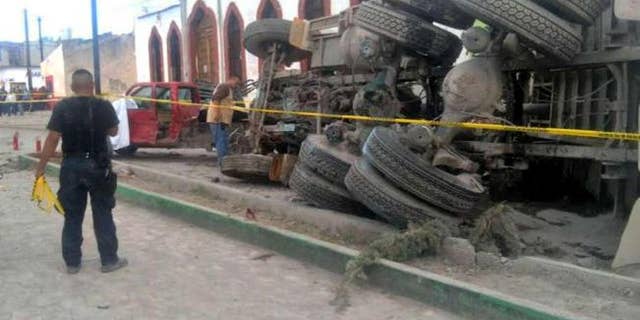 NEWYou can now listen to Fox News articles!
MEXICO CITY – A truck went out of control after apparently losing its brakes and slammed into a religious procession in central Mexico town, killing 25 people and injuring 30.
El Universal newspaper is reporting that the heavy truck was carrying building materials when it ran into the group of local Catholics Wednesday night in the town of Mazapil.
Jaime Santoyo Castro, Secretary General of the Government of Zacatecas, said the truck driver fled after hitting the dozens of pilgrims walking down the town's main street.
Such processions are common in Mexico to celebrate a saint's day or special religious occasion. They often walk on roadsides to local shrines.
There was no immediate information on the condition of the injured.
With reporting by the Associated Press.
Like us on Facebook
Follow us on Twitter & Instagram