Triple tragedy: Man's wife, newborn daughter and sister die within days of each other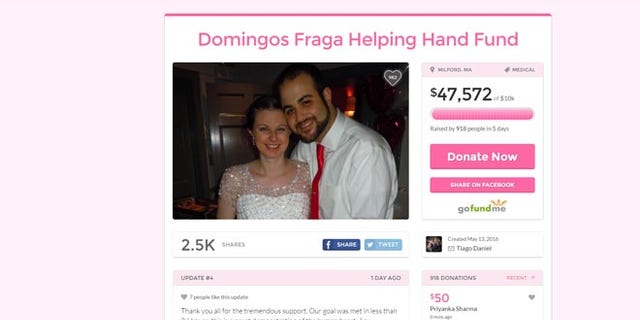 NEWYou can now listen to Fox News articles!
Friends of a Massachusetts man who lost his wife, newborn daughter and sister within days of each are trying to raise money for him.
Domingos Fraga suffered a triple whammy of tragedies – his 26-year-old wife, Liz Fraga, died May 6 while giving birth to the couple's daughter, Juliet. The little girl died five days later.
WCVB-TV reports Fraga learned this week during the wake for his wife and daughter that his 42-year-old sister, Melina Fraga, had died of cervical cancer.
A GoFundMe page set up for Fraga said Domingos was crushed earlier this year when he found out his sister had cancer.
"Instead of asking, why is this happening? He asked, how could he provide a helping hand to his family?" the GoFundMe page, set up by Domingos friends, said. "At this point he already had a lot on his mind, being newly engaged and an expecting father. He pulled multiple shifts at work and spent time helping his niece and nephew with their homework and just being there for them when their mother was going through cancer treatment."
He didn't realize then his life would take an unexpected turn for the worse.
Domingos was excited when his wife went to labor.
"He was full of joy, his wife was about to make his dreams come true, he was going to be a father," the GoFundMe page said. "A day that he dreamed about turned into a nightmare."
His wife, whom he married almost five months ago, suffered complications during labor and died. His daughter only lived for five days.
"Fraga says he got to hold Juliet and read to her every night before she died May 11," the GoFundMe page says. "He says his wife and daughter were meant to be together."
His wife, according to her obituary, loved reading, traveling and shopping.
"She collected cute socks and loved cats," the obituary said.
To compound matters, his 91-year-old grandmother on Sunday suffered a stroke.
"He would never ask for money, and be more inclined to give you money rather than take any. But he's not asking, we are," his friends said. "He's already emotionally drowning with all this bad news and the last thing we would want for him is to drown in debt."
The Associated Press contributed to this report.
Like us on Facebook
Follow us on Twitter & Instagram