Train derailment in northern Greece leaves 4 dead, 5 injured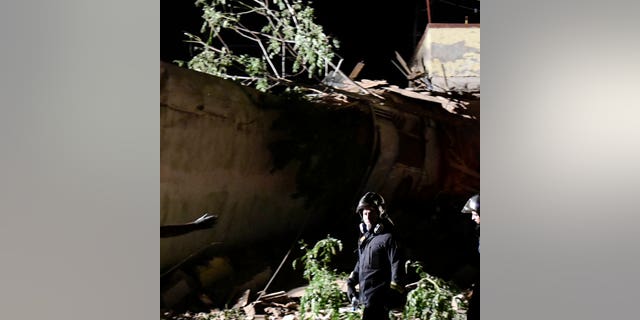 ADENDRO, Greece – An intercity train derailed in northern Greece, leaving four passengers dead and five seriously injured, including the driver, the state railway said in a statement early Sunday.
The train, with 70 passengers, was traveling on the Athens-Thessaloniki route when it went off the rails and crashed through a house by the village of Adendro, 40 kilometers (25 miles) west of Thessaloniki, on Saturday night.
"I was sitting on my porch. I saw a flash and immediately heard a terrible explosion," Giorgos Mylonas, 78, told The Associated Press. "Then I saw the train enter (a nearby) house and heard the two Albanians who live there scream for help."
One of the three-story house's two tenants said he and his friend jumped from the balcony.
"We heard a terrible explosion and we were very scared," said Mir, 26, who only gave his first name.
The train's engine went right through the house, whose bottom floor is storage space. The house is now tilting.
A local official, Mavroudis Mintsioudis, said "the whole house is now leaning on the train, which shows you how severe the crash was."
Emergency workers, along with two dozen fire trucks and many ambulances, are on the scene. Police wouldn't let anyone get close, but a dog sniffing through the wreck could be seen alongside firefighters.