Town honors dog that lost half of face saving 2 girls in Philippines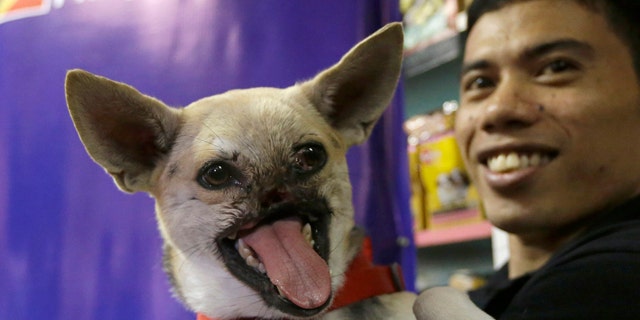 MANILA, Philippines – Every dog has its day, but few canines get a motorcade on their return home.
Kabang, who lost half her face jumping in front of a motorcycle to save two girls, received a rousing welcome Monday in Zamboanga, a town in the southern Philippines.
The mixed-breed dog came back from months-long treatment at the University of California, Davis, veterinary hospital, paid for with $27,000 in donations raised in the Philippines and abroad.
The dog and her owner, Rudy Bunggal, rode in the back of a pickup truck festooned with yellow balloons to the Municipal Hall, where the mayor bestowed the title "Pride of Zamboanga" on Kabang.
One of the girls said that without Kabang, "Maybe I will not be alive today."