Tourists injured after ceiling collapses on escalator in China
At least nine tourists riding an escalator were injured in northwest China on Saturday when a ceiling decoration collapsed at a busy visitor center in a dramatic moment captured on video.
The incident happened inside the Huashan Mountain tourist center around 5:30 p.m. in Huayin City, located in northwest China's Shaanxi Province, according to China Central Television.
In a surveillance video, tourists can be seen bracing for cover as the decoration falls on them.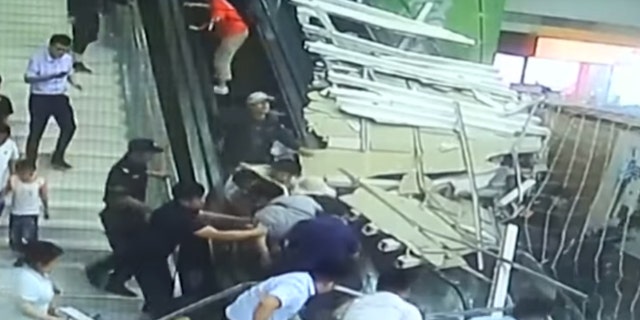 Emergency responders and others nearby quickly rushed in to help, and began digging through debris.
JAPAN EARTHQUAKE KILLS 3 INCLUDING 9-YEAR-OLD GIRL; SCORES INJURED
Officials did not disclose the extent of the injuries, and are investigating what caused the decoration to come crashing down.
The Associated Press contributed to this report.