Toronto police officer praised for 'remarkable restraint' in arresting van attack suspect
A Toronto police officer was praised for his "remarkable restraint" as he arrested the suspected driver of a van that rammed into pedestrians Monday without firing a single shot.
Video footage showed the unidentified officer ordering the suspect, identified as 25-year-old Alek Minassian, to "get down" or Minassian would be shot. The suspect, accused of killing 10 and injuring 15 others in the assault, was heard in the video yelling at the officer to "kill me" and "shoot me in the head," according to the Toronto Star.
"Based on what was known at the time of the arrest, @TorontoPolice used what appears to be remarkable restraint in not firing at the suspect when the suspect pointed a weapon at them," Ari Goldkind, a Toronto-based lawyer, said in a tweet.
TORONTO VAN SUSPECT REPORTEDLY ATTENDED SPECIAL NEEDS PROGRAM, MADE UNUSUAL NOISES
Bob Reid, a Toronto broadcaster, said the officer "deserves a medal."
The officer was shaken up after the incident, Toronto Police Association president Mike McCormack told The Star.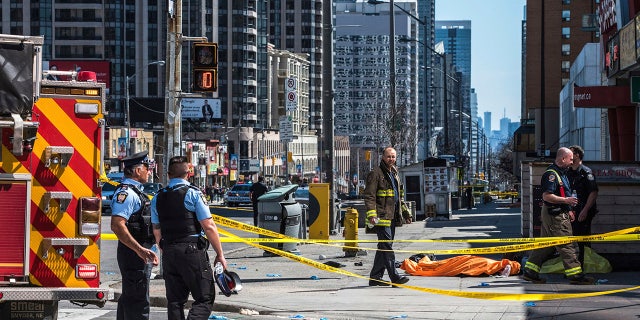 "He's shaken up by the whole thing, and shaken up by the magnitude. He said, 'You know, I was just doing my job,'" McCormack said. "He's been confronted by someone who is making like he has a weapon, threatening the officer's life, trying to get the officer to shoot him, and he arrests that guy."
Police didn't rule out the possibility of terrorism after Minassian was arrested.
TORONTO VAN CRASH SUSPECT ID'D AS POLICE WON'T RULE OUT TERRORISM
"Based on witness accounts, its very clear the actions definitely looked deliberate," Toronto Police Service Chief Mark Saunders said, adding the suspect had not been known to police previously.
Minassian sped off after striking pedestrians, according to CBC. Witnesses said the driver was moving fast and appeared to be acting intentionally.
Fox News' Matt Richardson and the Associated Press contributed to this report.