Toronto mayor acknowledges 'mistakes,' but says he'll stay in office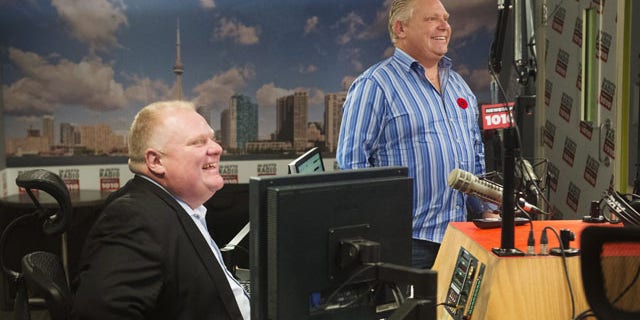 TORONTO – Toronto Mayor Rob Ford apologized Sunday for "a lot of stupid things" and acknowledged the need to curb his drinking, but he didn't address allegations of drug use and said he will continue to lead Canada's largest city despite pressure to resign.
"I'm going to weather this storm," he said.
Ford made his remarks on his local weekly radio show three days after police said they had obtained a copy of a video that appears to show the mayor puffing on a crack cocaine pipe.
The video was recovered from a computer hard drive during an investigation of an associate of Ford's who is suspected of providing him drugs. Police have said they don't have grounds to charge the mayor with any crime.
Ford didn't address the contents of the video Sunday, saying he cannot comment on a tape he hasn't seen. "Whatever this video shows, Toronto residents deserve to see it and people need to judge for themselves what they see on this video," he said.
Police said the video will come out when Ford's associate and occasional driver, Alexander Lisi, goes to trial on drug and extortion charges. Lisi is accused of threatening two alleged gang members who had been trying to sell the video to the media.
Police have said they want to talk to Ford, but his lawyer so far has declined.
Ford on Sunday acknowledged making "mistakes" but declined to take a leave of absence or resign.
"I sincerely apologize, there's absolutely no excuse, no one to blame but myself," he said. "I am going to fight like no one has seen before to win the next election" in October 2014.
Later, he told Toronto radio station AM640 in an interview that "I am not a crack addict. I'm not an addict of any type of drug -- even alcohol."
All four major Toronto newspapers have called on Ford to resign. Municipal law makes no provision for his forced removal from office unless he's convicted and jailed for a criminal offense.
The populist, conservative mayor also said Sunday he would agree to have a full-time city driver, a proposal he had rejected before as a waste of taxpayers' money.
Even before police announced they had the video, Ford had drawn criticism for erratic behavior.
Ford said Sunday he shouldn't have been drunk in public when he appeared at a street festival in August, calling it "pure stupidity."
He also said he got "a little out of control" after St. Patrick's Day in 2012, when city hall security guards said they witnessed a "very intoxicated' Ford having trouble walking and swearing at aides.
An incident report released last week said that at 2:30 a.m. that day, Ford "visited the security desk alone with a half empty bottle of St. Remy French Brandy." The mayor said his car had been stolen and he wanted to call police, the report said. Security told Ford his car was at home, took the bottle from him and found him a taxi.
Ford warned Sunday, "I'm not saying here I'm not going to drink again. That's not realistic. Just slow down on the eating and drinking and everything."
The mayor also met over the weekend with ally and Deputy Mayor Norm Kelly, who had said he wanted to express the concerns of city council members.
Kelly said Sunday he was "encouraged" by Ford's decision to hire a driver to pick him up in the morning and take him home at night.
But Kelly said there would be "no generosity by any of the sides" if Ford slips up again.
City Councilor Doug Ford, the mayor's brother and co-host of the radio show, said the mayor should stay in his basement when he drinks.
Ford drove himself to the radio station Sunday, blasting the Bee Gees' "Stayin' Alive" on his car stereo as he arrived.