Tornadoes, Severe Weather Wreak Havoc Across The Midwest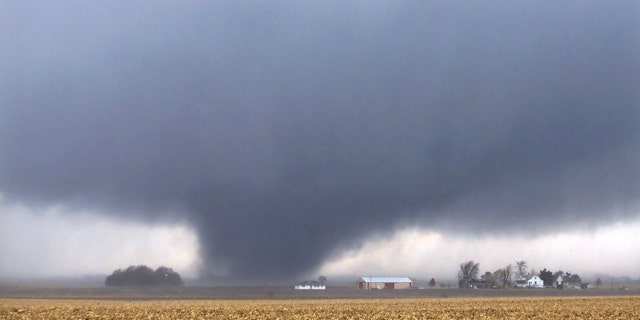 Associated Press – An unusually large and strong late-season storm system ripped through several states across the Midwest on Sunday, spawning tornadoes and tearing through homes and overturning cars along its path.
Here's a snapshot of what happened, state by state:
ILLINOIS
Intense thunderstorms and tornadoes ripped off roofs and sent trees toppling in several communities across the state. At least six people were killed, including, an elderly man and his sister who died when a tornado struck their farmhouse in rural New Minden in southern Illinois, officials said.
One of the worst-hit areas was Washington, a town of 16,000 about 140 miles southwest of Chicago. Entire blocks were leveled as a tornado cut a path about an eighth of a mile wide from one side of town to the other.
As high winds slammed into the Chicago area, officials at Soldier Field evacuated the stands and ordered the Bears and Ravens off the field. Fans were allowed back to their seats shortly after 2 p.m., and the game resumed after about a two-hour delay.
INDIANA
Severe thunderstorms packing tornadoes and heavy winds rolled across Indiana, injuring several people and causing widespread damage.
Gov. Mike Pence said 12 counties reported either tornadoes or storm damage after the initial line of storms had traveled midway across Indiana.
Kokomo police asked residents to stay home and off the streets after city officials declared a state of emergency in the wake of severe storms. The city police department posted photos on its Twitter account showing buildings with roofs torn off and a destroyed bank branch.
OHIO
Heavy winds from storms caused damage to buildings and left tens of thousands across Ohio without power.
Wood County, in the northwestern part of the state, was among the hardest-hit areas. There were multiple reports of damage to the roofs of buildings and homes.
The county's emergency management director, Brad Gilbert, said two people were taken to a hospital to be evaluated for minor injuries after their home sustained substantial damage in Jerry City, about 10 miles southeast of Bowling Green.
Thousands of customers were without power across northwest Ohio due to the storm.
WISCONSIN
Strong winds knocked out power to thousands in the Milwaukee area, damaged buildings and downed trees in Dodge County, and sent churchgoers scrambling into church basements for safety.
In the town of Hustisford, cattle sheds, garages and storage sheds were damaged, said Dodge County Emergency Management Director Joseph Meagher. No injuries were immediately reported, he said.
MICHIGAN
High winds and rain slammed into Michigan, causing tens of thousands of power outages. The storm hit from Lake Michigan communities in the west to counties hundreds of miles to the east. There were no immediate reports of injuries, but trees and power lines snapped from winds topping 60 mph.
KENTUCKY
A possible tornado touched down at a uranium enrichment plant in Paducah, Ky., as strong storms moved through the state. No deaths or injuries were reported, and plant officials said no hazardous materials were released from the plant.
A total of eight Kentucky counties reported tornado sightings.
At least two homes were destroyed — one in Henderson County and another in Butler County. More than 3,000 customers lost power.
MISSOURI
Severe storms slammed the eastern part of Missouri, leaving thousands without power mostly in the St. Louis area and destroying a mobile home in Scott County. No one was injured.
The National Weather Service said the storm tore shingles off roofs and uprooted trees across parts of St. Louis and St. Louis County.