Titanic memorial cruise delayed due to medical emergency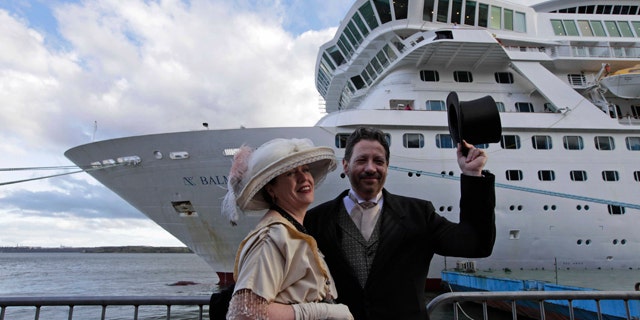 Is it a doomed voyage?
A cruise ship carrying 1,309 passengers -- including relatives of some of the more than 1,500 on board the Titanic when the iconic ship sank in 1912 -- was delayed Tuesday because of a medical emergency on board.
The Titanic Memorial Cruise, which set sail from southern England on Sunday and made a brief stop in the Irish town of Cobh on Monday, was forced to turn back to the Irish coast so a sick passenger could be airlifted to a hospital.
After the guest was taken off the ship, the MS Balmoral continued its scheduled voyage en route to New York as it retraces the journey of the Titanic, including a visit to the North Atlantic site where the ship hit an iceberg and sank 100 years ago.
The ship is expected to call in Halifax, Canada on Apr. 16 and in New York on Apr. 19.
The memorial cruise was slightly delayed Monday when leaving the Irish town of Cobh because of high winds and bad weather, a spokesman for the cruise said.
Cobh, once known as Queenstown, was the Titanic's last port of call before it set out across the Atlantic in April 1912. As the Balmoral pulled into the town's port Monday, it was welcomed by thousands of cheering well-wishers.
The cruise seeks to recreate the experience onboard the Titanic -- minus the disaster. Many passengers are dressed in period costumes for the journey, as are crew members and stewards. Passengers will also eat meals from the Titanic's menu, while a live band plays music of the era.
Two special memorial services will take place over the weekend: The first close to midnight Apr. 14, when the Titanic hit the iceberg, and the second on early Apr. 15, when the ship sank.
The Balmoral is operated by Fred. Olsen Cruise Lines, whose parent company, Harland and Wolff, built the Titanic in Belfast.
The memorial cruise is among an abundance of commemorations and memorials to the reputedly unsinkable ship that have sprung up to coincide with the 100th anniversary of the Titanic's doomed voyage.
The Associated Press contributed to this report.