Three jailed Al Jazeera Journalists pardoned in Egypt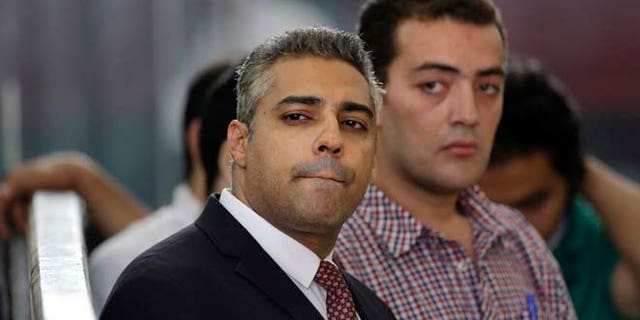 Three Al Jazeera journalists jailed in Egypt have been pardoned by President Abdel Fattah al Sisi.
Canadian Mohamed Fahmy was forgiven in a presidential decree along with prominent human rights activists, according to a lawyer and Egypt's state-run newsagency.
The names of the other two have not yet been released.
MENA news agency says Mr Sisi has ordered those pardoned be released today.
Fahmy was handed a three-year prison sentence last month for broadcasting what a court described as "false news" and biased coverage.
It wasn't clear whether his colleague Baher Mohammed and Peter Greste, who were also sentenced in the case, were also pardoned.
Mr Greste, an Australian, had already been deported, but Mr Mohammed was sent to jail.
Around 100 have been pardoned in total, says Sky News Middle East Correspondent Sherine Tadros.
At their retrial, Judge Hassan Farid said he jailed the three in part because they were not registered with the country's journalist syndicate.
He explained that the journalists brought equipment without the approval of security officials into Egypt.
The three also spread "false news" and used a hotel as a broadcasting point without permission, the judge added.
Tadros said: "We are still waiting to hear the names - whether it is the other journalists who were jailed with him.
"Of course good news for Mohamed Fahmy and his family. It's absolutely not justice. It's a pardon that's been given to them on the occasion of the Muslim holiday of Eid and something that in the past Egypt has done.
"It is something that will be received well by the families of the activists as well as the journalists but of course we know that there are tens of thousands of political prisoners still in Egyptian jails, just for protests."