Thousands rally in Kiev calling on Ukraine's government to reverse course and sign EU deal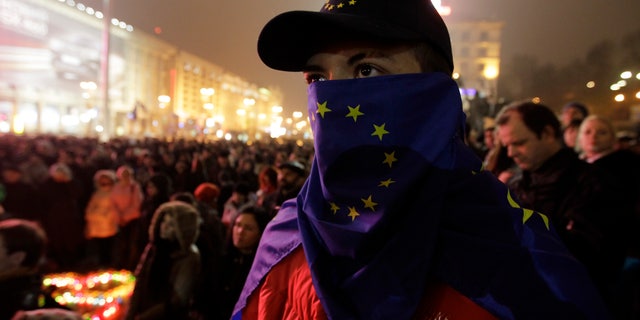 KIEV, Ukraine – About 10,000 demonstrators are marching through central Kiev to demand that the Ukrainian government reverse course and sign a landmark agreement with the European Union.
Carrying Ukrainian and EU flags, the demonstrators shouted "Ukraine is Europe" and sang the national anthem as they marched toward Independence Square.
Ukraine's leaders announced suddenly on Friday that they were pulling out of a free trade and political association deal with the EU, saying the country could not afford to break trade ties with Russia.
Sunday's protest was seen as a test of the strength of the opposition and its ability to nudge President Viktor Yanukovych back in the EU's direction.
One key EU demand for signing the deal is the release of jailed former Prime Minister Yulia Tymoshenko, who is Yanukovych's arch-enemy.