Thousands march in London to demand new EU vote on second anniversary of Brexit
Thousands of protesters descended on London on Saturday to demand a new referendum on leaving the European Union, as Britain marked the second anniversary of its historic Brexit vote.
The People's Vote Protest, organized by anti-Brexit groups led by Open Britain, marched through central London to Parliament while brandishing EU flags and calling for a second vote on whatever divorce deal is agreed between Britain and the EU. The group put the number of protesters at 100,000.
"I'm here to show what a European looks like," said protester Matthew Mann, a Briton who is married to a French woman and is living in The Netherlands.
"I have lived and worked across Europe — it's home."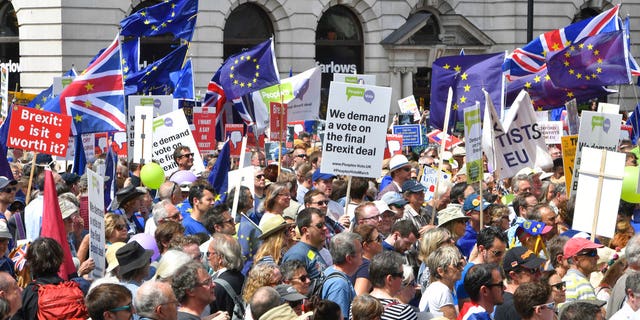 GROUNDHOG DAY FOR MAY AS UK BREXIT BILL FACES NEW CHALLENGE
Brexit supporters, including Boris Johnson, the British foreign secretary, have warned that the government not delay or water down the pending divorce from Europe.
"They [people across Britain] don't want some sort of hopeless compromise, some perpetual pushme-pullyou arrangement in which we stay half in and half out in a political no mans land." he wrote in The Sun.
Johnson said that Britain must not have a "half-hearted" Brexit, which he likened to a roll of toilet paper – "soft, yielding and seemingly infinitely long."
A senior 10 Downing Street source told the newspaper that Prime Minister Theresa May has no intention of delaying Brexit.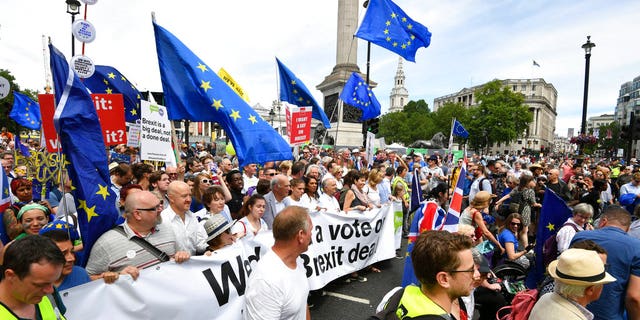 "The PM's view is the implementation period ends in 2020 and that is the point where we will be fully free to strike our own trade deals.
"She fully understands the public wants us out by that point, and that is what she will deliver."
UK FOREIGN MINISTER BORIS JOHNSON SUGGESTS TRUMP HANDLE BREXIT TALKS: 'HE'D GO IN BLOODY HARD'
Britain voted 52 percent to 48 percent on June 23, 2016, to quit the EU, and its official exit is slated for March 29, 2019.
But the country remains firmly divided about what kind of economic relationship it wants with the EU.
The People's Vote campaign argues that public opinion is turning against Brexit as the economic costs become clearer.
Even May's government is divided. While Johnson is leading calls for a clean break from the EU, others including Philip Hammond, the chancellor of the exchequer, wants to keep closely aligned to the bloc.
Liam Fox, the international trade secretary, has warned that Britain is not "bluffing" about being prepared to abandon trade talks, while David Davis, the Brexit secretary, has said there is "lots going on" to prepare for a "no deal" outcome.
Johnson and other hard Brexit backers have come under criticism for business leaders for their unhelpful language.
The pro-European think tank the Centre for European Reform concluded that the British economy is 2.1 percent weaker than it would have been if the country voted to remain in the EU, and has hit the country's public finances at a cost of £440m ($583 million) a week.
Jürgen Maier, the chief executive of Siemens UK, chastised Johnson for his combative language. "I think the realities are setting in and I think it is time to get away from slogans, 'full British Brexit', 'going into combat with Europe'," he told BBC Radio 4. "It's all incredibly unhelpful and what we need to do now is to get closer with our European partners and work out what a realistic, pragmatic Brexit that works for both sides, the EU and ourselves."
Aeronautics company Airbus, which employs 14,000 people in the UK, has threatened to cut tens of thousands of jobs and warned that no Brexit deal would be "catastrophic".
The Associated Press contributed to this report