Thousands join Hamas marches in West Bank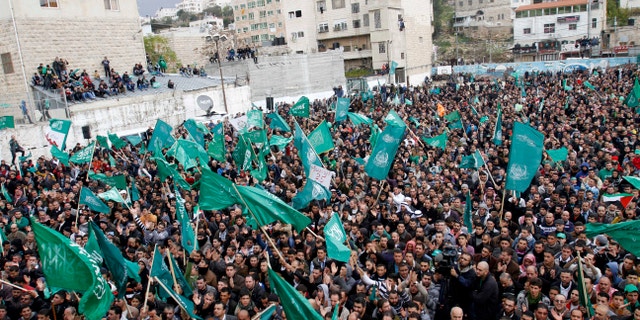 RAMALLAH, West Bank – Hamas has staged new rallies in the West Bank, one day after thousands of its activists turned out for the first marches there by the militant group there in five years.
Friday's marches in several cities appeared larger than Thursday's demonstrations, the first in the Palestinian territory since the 2007 split in which Hamas seized Gaza and the secular-leaning Fatah was left in control of the West Bank.
The rivals have been making overtures toward each other since last month, when Hamas fought an eight-day conflict with Israel and the West Bank's Western-backed president Mahmoud Abbas won U.N. recognition of a de facto Palestinian state.
Marchers chanted for Hamas to bomb Israel. Hamas' leader in Gaza, Ismail Haniyeh, addressed crowds by phone -- an unusual concession by Fatah.