Thousands flee homes as wildfires rage across southern Australia; 6 houses destroyed in blazes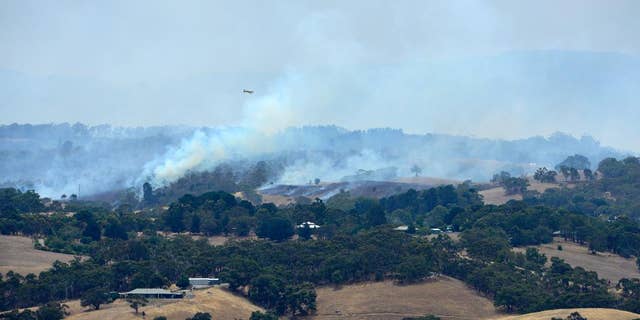 SYDNEY – Thousands of Australians fled their homes as wildfires raged across the nation's south on Saturday, with firefighters struggling to contain the blazes fanned by strong winds.
Six homes were destroyed by the fires in South Australia and Victoria states, officials said, though no serious injuries have been reported.
Dry conditions and temperatures in the upper 30s Celsius (around 100 degrees Fahrenheit) were causing headaches for firefighters battling the blazes. Officials said it would likely take days to get the fires under control.
The worst of the fires was in the Adelaide Hills in South Australia, where the flames had destroyed five homes and put hundreds of others at risk, state Country Fire Service spokesman Daniel Hamilton said. Residents of 19 communities had been asked to evacuate as a predicted shift in the winds on Saturday afternoon prompted fears the flames could worsen.
The forecast was also calling for increased humidity, which could slow the fire's progress Saturday night, Hamilton said.
Up to 2,000 firefighters were battling the blazes across the state from the ground and the air, with more than a dozen aircraft dumping water onto the flames. Four firefighters have suffered minor physical ailments, including dehydration and asthma, Hamilton said.
In neighboring Victoria state, firefighters had controlled more than 300 fires since Friday, with only one still considered a danger. One home was destroyed in the blaze in the western Victoria town of Moyston, state Country Fire Service spokesman Mario Xuereb said.
A shift in the weather Saturday afternoon was expected to bring light rain, wind and lightning to the area, which could exacerbate the blaze. The rain wouldn't be enough to quell the flames, and the lightning could spark fresh fires, Xuereb said.
Destructive wildfires are common across much of Australia during the summer months. In 2009, wildfires killed 173 people and destroyed more than 2,000 homes in Victoria.