Thousands evacuated in Chile as forest fire rages near Valparaíso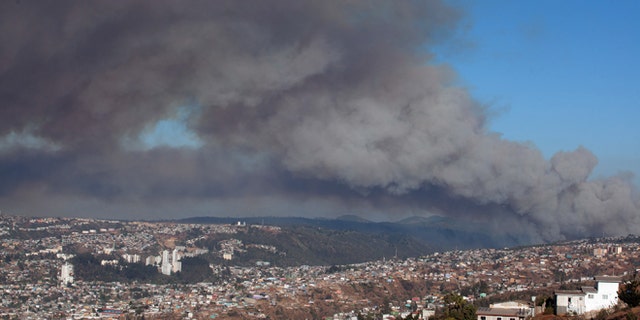 NEWYou can now listen to Fox News articles!
SANTIAGO, Chile (AP) – A serious forest fire spread quickly on Chile's coast Friday and threatened to reach the nearby port cities of Valparaíso and Viña del Mar.
Officials said the fire began at an illegal garbage dump in the afternoon and flames were spread quickly by high winds, leading authorities to declare a state of catastrophe in the area. Deputy Interior Secretary Mahmud Aleuy said that about 4,500 people in six neighborhoods had been evacuated as flames advanced nearby and that an additional 10,000 might need to be moved.
The interior ministry said a 67-year-old woman died of cardio-respiratory causes, and firefighters reported at least 10 people injured.
Chile's Emergency Office estimated that about 300 hectares (about 740 acres) had been affected by late Friday.
Chile suffered its worst urban fire in the same general area, in April 2014, when a raging blaze that started as a forest fire leaped from hilltop to hilltop in Valparaíso, killing 15 people, injuring more than 500 and destroying more than 2,900 homes.
The city, which was declared a World Heritage Site by UNESCO in 2003, is known for colorful neighborhoods hugging hills so steep that people use stairs rather than streets. About 75 miles (120 kilometers) northwest of the capital, Santiago, it has a vibrant port and is home to Chile's national legislature.
Like us on Facebook
Follow us on Twitter & Instagram