Third Zambian journalist arrested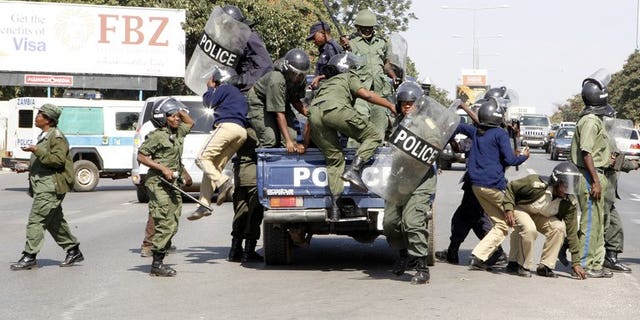 LUSAKA (AFP) – Zambian police on Monday arrested and charged a journalist with having porn on his computer in another apparent crackdown on a publication critical of the government, his lawyer said.
Clayson Hamasaka is the third reporter taken into custody for ostensible links to the Zambian Watchdog, which publishes articles critical of President Michael Sata's government.
"They have arrested Hamasaka and charged him with the offence of possession of obscene materials," his lawyer Keith Mweemba told AFP.
"They claimed they found some obscene material on his personal laptop," he added.
"All is aimed at linking them up to the Zambian Watchdog," Mweemba said.
The news site withholds its reporters' names to protect their identities.
The equipment was confiscated in a raid on Hamasaka's house on July 10, when he was detained with fellow journalist Thomas Zyambo.
Hamasaka was investigated for sedition but later released.
Zyambo was arrested on charges of rebelling against the state, released on bail, then summoned to the police station again on Monday together with Hamasaka.
A conviction for possessing pornography carries a five-year prison sentence in the conservative southern African country.
Police wanted to match Zyambo's writing to a handwritten biography of President Sata that was found on him during his arrest and led to the sedition charge.
"I am already appearing in court, so why do they want me to write the same thing? They want to now know my handwriting," Zyambo told AFP at the police offices.
Hamasaka secured bail in the evening and is due in court on August 12.
Critics have accused the government of targeting journalists with trumped-up charges.
Another journalist, Wilson Pondamali, was arrested for possession of restricted information two weeks ago.
Police have refused to release him despite a court granting bail, and he was hospitalised after collapsing in prison.
He remains handcuffed to his hospital bed while undergoing treatment for pneumonia, according to London-based rights group the Media Legal Defence Initiative (MLDI).
MLDI and the Southern African Litigation Center have referred his case to the United Nations and the African Union.
They petitioned the bodies "to declare that Mr. Pondamali's continued detention violates his right to freedom of expression and liberty, and secure his immediate release," according to a statement on the MLDI website.
Zambia's government has meanwhile blocked local access to the Zambian Watchdog.