The Latest: Yemeni rebels warn Saudi Arabia over blockade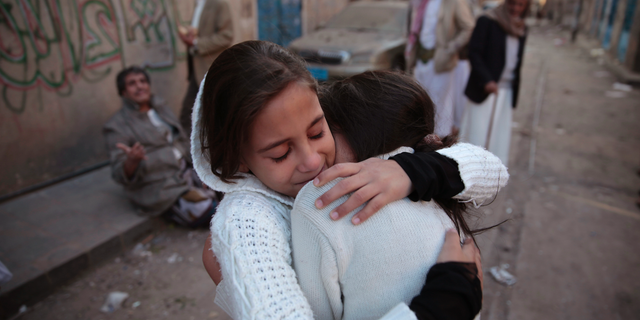 CAIRO – The Latest on the war in Yemen (all times local):
11:10 a.m.
A top leader of Yemen's Shiite rebels who are at war with a Saudi-led military coalition is vowing retaliation against the oil-rich kingdom over its disastrous blockade of the war-torn country.
The fiery comments came even as Saudi Arabia said on Monday that it will begin reopening airports and seaports in Yemen — those in areas not controlled by the rebels — after days of closing them over a rebel ballistic missile attack on Riyadh. The Saudi closure had drawn international condemnation and fears of a worsening humanitarian disaster in Yemen.
Saleh al-Sammad, the head of the Presidency Council of Yemen's rebels, also known as Houthis, told a rally of thousands of supporters marching down a main boulevard in the capital, Sanaa, that the coalition has "shut down all doors for peace and dialogue."
He also said that the more the blockade tightens, the more the Houthis will develop their abilities to "respond to the assault of the enemy."
___
8:20 a.m.
Saudi Arabia's mission to the United Nations says the Saudi-led coalition fighting Shiite rebels in Yemen will begin reopening airports and seaports in the Arab world's poorest country.
The mission's announcement came in a statement early on Monday.
It says: "The first step in this process will be taken within 24 hours and involves reopening all the ports in areas controlled by" Yemen's internationally recognized government, which the coalition backs.
It says those ports are in Aden, Mocha and Mukalla.
Saudi Arabia announced it shut down all ports after a Nov. 4 ballistic missile attack on Riyadh near its international airport by the Shiite rebels known as Houthis.
Saudi Arabia and the U.S. have accused Iran of supplying the ballistic missile used in that attack. The Houthis have denied that.