The Latest: UN Security Council condemns Dhaka attack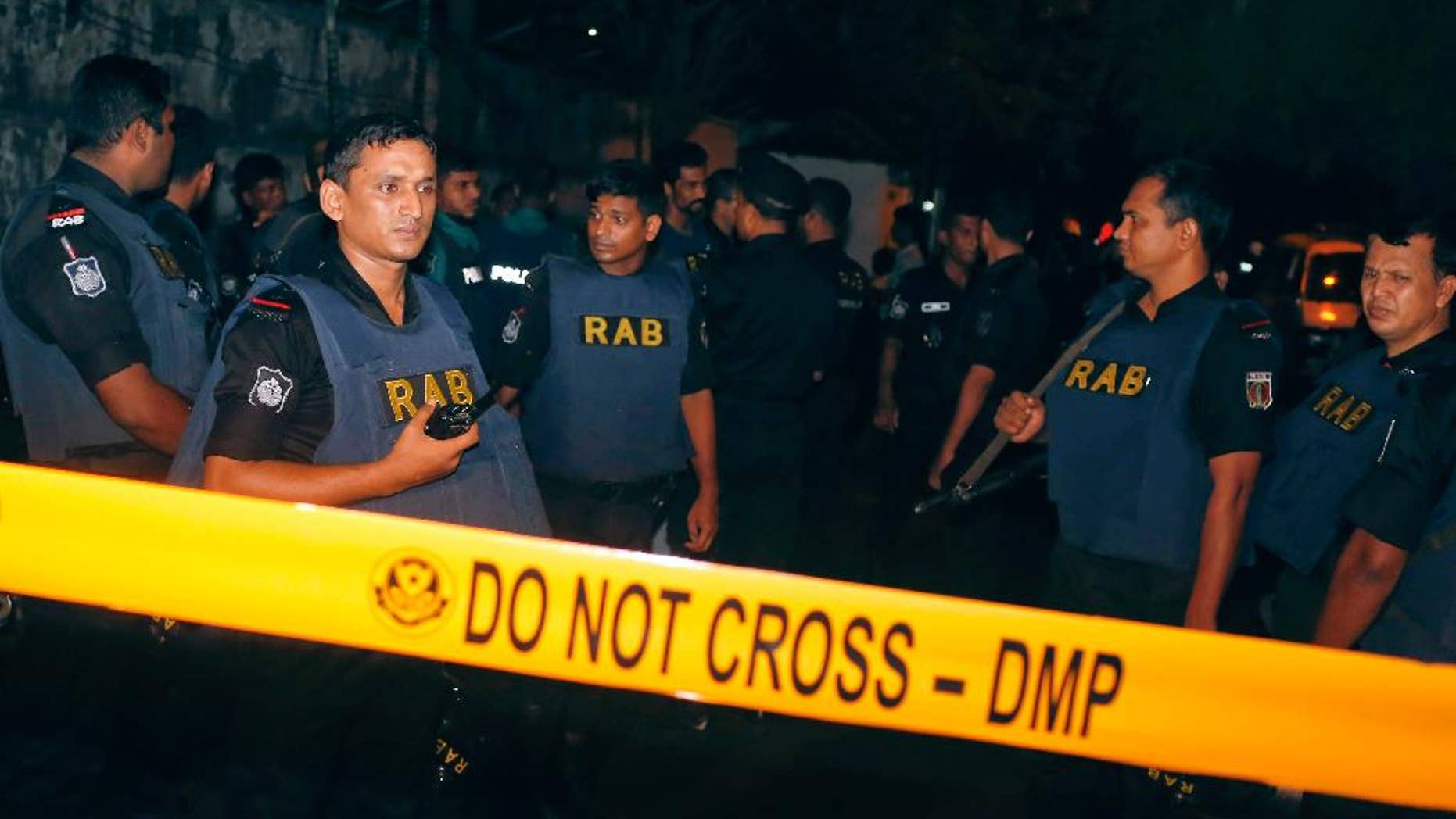 DHAKA, Bangladesh – The Latest on the attack on a restaurant popular with foreigners in a diplomatic zone in the Bangladeshi capital (all times local):
3:30 a.m.
The U.N. Security Council has issued a statement strongly condemning "the heinous and cowardly terrorist attack" on a restaurant in Dhaka, Bangladesh.
The statement issued Saturday reaffirmed that terrorism "constitutes one of the most serious threats to international peace and security."
U.N. Secretary-General Ban Ki-moon also released a statement through his spokesperson condemning the attack and expressing hope "that those behind this crime will be identified and brought to justice."
___
2:45 a.m.
A classmate of two people who attended a university in the U.S. state of Georgia and were killed in the Bangladesh restaurant attack remembered them as genuine and intelligent people who had no enemies.
Kereisha Harrell says she worked with Faraaz Hossain and Abinta Kabir on a committee at Emory's Oxford College that planned school-wide events. She says both Hossain and Kabir were part of an honor society recognizing academic achievement.
"We are honestly shocked," Harrell said. "A lot of us are not ready to talk about it. But we were a family. It hit us hard. There are a lot of people very upset. We're just trying to support each other through this."
Hossain and Kabir were among at least 28 people dead in an attack that began Friday. Militants stormed a restaurant and held hostages for 10 hours before paramilitary forces ended the siege.
___
1:40 a.m.
Retired Lebanese Gen. Elias Hanna, who instructs political science at the American University of Beirut, says the decision by Islamic State militants to quickly — and emphatically — claim the Bangladesh restaurant attack and broadcast the attackers' photos reflects the competition they have with al-Qaida to be the world's premier jihadi group.
He tells The Associated Press that "Zawahiri is stationed in that area, so this is competition," referring to al-Qaida leader Ayman al-Zawahri, who is believed to be based in the Afghanistan-Pakistan border region.
In other areas, Hanna says IS has an interest in restraint. The group is widely thought to have directed last week's deadly attack on Istanbul's international airport, but has not claimed responsibility. Hanna says "the punishment will be harsher" in Turkey for whoever directed the airport attack.
___
1 a.m. Sunday
In an interview with TV broadcaster C5N, Argentine Diego Rossini described how he survived the Dhaka restaurant attack by extremists.
Rossi, who worked as a chef in the targeted restaurant in the Bangladeshi capital, says he is still in shock.
He says the attackers "were very well prepared with bombs, guns, machine guns. It was horrible."
He says "I can't still believe this happened. It was like a movie, they pointed with their guns to me and I could hear shots passing by. I was very, very afraid, like never before in my whole life."
Rossi managed to escape by running to the restaurant's terrace and jumping onto another building. He says "today I was born again."
___
11:55 p.m.
Two Italians, a desert chef and businessman whose wife was slain in the Dhaka restaurant attack, are recounting how they survived the 10-hour siege.
Jacopo Bioni, 34, who specializes in ice-cream making, was filling in at the Dhaka restaurant on Friday night. He was in the kitchen cooking pasta as a special treat requested by the Italian diners when the attack began. State TV says Saturday that an Argentine chef who knew the layout of the restaurant hustled him up to the roof.
The Rome daily La Repubblica quotes Brioni as saying that extremists firing weapons and hurling grenades chased them on the roof until the pair jumped two stories down into a neighboring property.
The businessman, Gianni Boschetti, had just received a phone call and stepped into the restaurant's garden to talk when the attack began. State TV said he threw himself into some bushes, then escaped and called the Italian embassy.
His sister-in-law, Patrizia D'Antona, told state TV he "wandered all night" from hospital to hospital in hopes of finding his wife, Claudia D'Antona. She was later identified as among the nine Italians found slain in the restaurant.