The Latest: Turkey stops hundreds of Syrians on Black Sea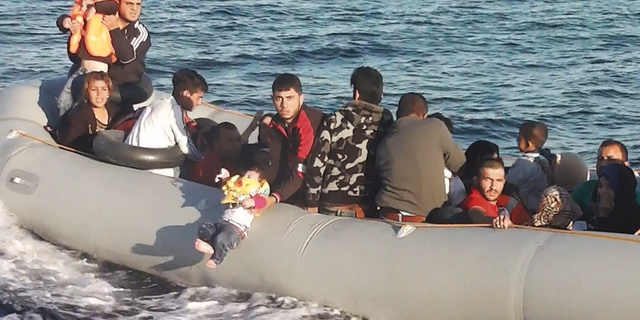 NICOSIA, Cyprus – The Latest on Europe's response to the large numbers of refugees and migrants trying to reach the continent (all times local):
4:30 p.m.
Turkish authorities say they stopped 313 migrants on the Black Sea attempting to reach Balkan countries in the last two days, suggesting the emergence of an alternative route to Europe.
Turkey's coast guard said Sunday it stopped a fishing boat carrying 93 Syrians and one Afghan off the northern coast of Istanbul. The coast guard says they were with a suspected Turkish smuggler.
The coast guard also intercepted 68 Syrians and two Iranians in a sailboat with one alleged Turkish smuggler 36 nautical miles east of Bulgaria on Saturday.
Late Friday, an official vessel stopped 149 Syrians and two Ukrainians thought to be smugglers in a fishing boat emitting a distress signal 14 nautical miles east of Romania.
The migrants and suspects were brought to northwestern Kirklareli province in Turkey for processing.
___
10:30 a.m.
Cyprus police say a 36-year-old man has been arrested for allegedly driving one of a pair of boats that brought 305 Syrian refugees to the island's northwestern coast.
Police spokesman Michalis Ioannou said Sunday that the 202 men, 30 women and 73 children who arrived at around midnight are thought to be the largest number of migrants to reach Cyprus in a single day.
Ioannou says they departed from Mersin, Turkey on Saturday.
He says the passengers reported paying $2,000 (1,658 euros) each for the trip. Some with relatives in Cyprus have expressed the desire to remain there. Others said they want to go to Germany or to Scandinavian countries.
All will be taken to a reception center except for a woman and her newborn baby, who were hospitalized.