The Latest: Syria's Assad meets with Putin envoy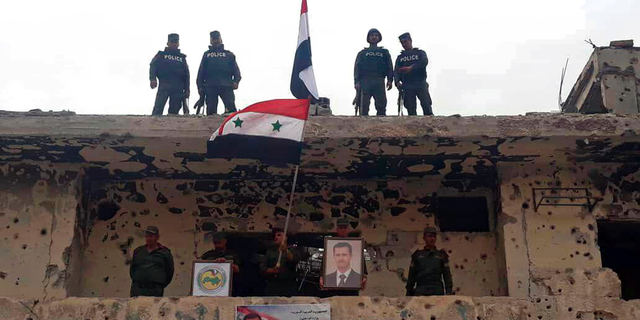 NEWYou can now listen to Fox News articles!
BEIRUT – The Latest on Syria developments (all times local):
8 p.m.
Syrian state media says President Bashar Assad has met with Russian President Vladimir Putin's special envoy to Syria, after Russia said Assad ally Iran should withdraw its forces from Syria.
The SANA news agency says Assad received Alexander Lavrentyev in Damascus on Wednesday.
According to SANA, Lavrentyev congratulated Assad on restoring full control over Damascus and its suburbs after government forces, backed by Russia and Iran, expelled Islamic State group militants from their last holdout in the capital earlier this week.
Assad said Russia was a partner to his government and said he would continue to fight "until the elimination of the last terrorist and the liberation of what has remained of terrorist dens."
Last week, Putin told Assad at a rare summit between the two men in Sochi that Russia expects foreign troops to begin exiting Syria as the civil war there shifts to a diplomatic and political phase. Lavrentyev later explained Putin meant Iran, Hezbollah, the U.S., and Israel.
Syria's Foreign Ministry later said Iran's presence in Syria was not open for discussion.
___
11:35 a.m.
Syria has dismissed American calls for the withdrawal of Iranian troops and the Lebanese militant group Hezbollah from the war-torn country.
Syrian Deputy Foreign Minister Faisal Mikdad told Russia's Sputnik news agency "this topic is not even on the agenda of discussion, since it concerns the sovereignty of Syria."
U.S. Secretary of State Mike Pompeo issued a list of demands this week for a new nuclear deal with Iran, including the pullout of its forces from Syria, where they have provided crucial support to President Bashar Assad's government. Russia is also a key ally of Assad, and has been waging an air campaign in Syria since 2015.
Mikdad said in Wednesday's remarks that Syria "highly appreciates" Russia's military support as well as advisers from Iran and Hezbollah.