The Latest: Sudan army deploys in capital amid coup rumors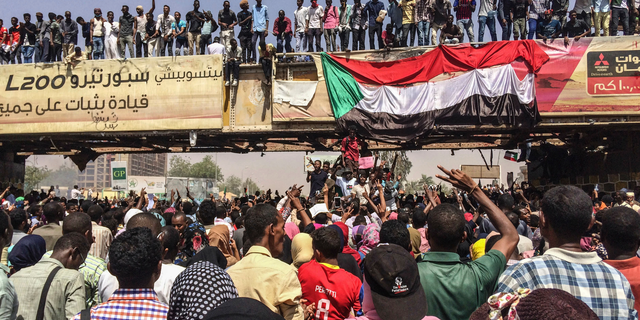 CAIRO – The Latest on developments in Sudan (all times local):
9:20 a.m.
Eyewitnesses in the Sudanese capital say the military has deployed at key sites in the city to secure several installations ahead of an army announcement and amid reports of a coup to replace the country's longtime president, Omar al-Bashir.
The situation in Khartoum remains fluid and it wasn't immediately possible to confirm that al-Bashir is being ousted.
The witnesses told The Associated Press that military armored vehicles and tanks have been parked in the streets and near bridges over the Nile River as of Thursday morning, as well as in the vicinity of the military headquarters, where thousands are anxiously waiting for the army statement.
The compound has been the scene of a large anti-government sit-in since last Saturday calling for al-Bashir's ouster. The witnesses spoke on condition of anonymity because they feared reprisals.
—Maggie Michael in Cairo;
___
7:40 a.m.
Sudan's state TV says the country's armed forces will deliver an "important statement" and are asking the nation to "wait for it."
The announcement raised expectations the statement Thursday could address nearly four months of anti-government protests demanding that longtime President Omar al-Bashir step down and could be a sign that he is relinquishing power.
Organizers of the protests urged masses to converge and join an ongoing sit-in that has been underway in the capital, Khartoum, since the weekend.
Sudanese radio is playing military marches ahead of the announcement.
The TV s says there'll be an "important statement from the armed forces after a while, wait for it."
It comes after clashes between Sudanese security forces and protesters, after an attempt to break the sit-in, leaving 22 dead since Saturday.