The Latest: Russian lawmaker warns against Syria strike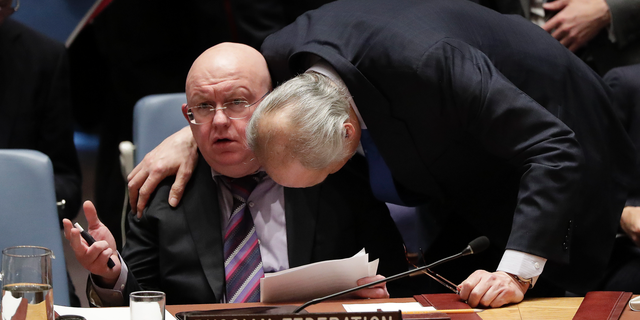 NEWYou can now listen to Fox News articles!
BEIRUT – The Latest on the Syria conflict (all times local):
11 a.m.
A senior Russian lawmaker has warned the United States that Russia would view an airstrike on Syria as a war crime.
U.S. President Donald Trump has threatened military action after last weekend's suspected chemical attack on a rebel-held town near Damascus, which activists and rescuers say killed at least 40 people. The Syrian government and its ally Russia have denied that such an attack ever happened.
State news agency RIA Novosti on Wednesday quoted Andrei Krasov, deputy chairman of the State Duma's defense committee, as saying that Russia will treat a U.S. airstrike on Syria "not just as an act of aggression but a war crime of the Western coalition."
Russia has been a key backer of Syrian President Bashar Assad, providing air cover for his offensive against the Islamic State group and Syrian rebels. Russian military advisers are deployed at many Syrian government facilities.
___
10:45 a.m.
European airspace authorities are warning aircraft to be careful over the next days when flying close to Syria because of possible military action against President Bashar Assad's forces.
The Eurocontrol airspace organization said that the European Aviation Safety Agency had sent a "Rapid Alert Notification" that flight operations needed to consider the possibility of air or missile strikes into Syria.
U.S. officials have consulted with global allies on a possible joint military response to Syria's alleged poison gas attack on a rebel-held town.
In a notice posted to Eurocontrol's website, EASA said: "Due to the possible launch of air strikes into Syria with air-to-ground and/or cruise missiles within the next 72 hours, and the possibility of intermittent disruption of radio navigation equipment, due consideration needs to be taken."