The Latest: Russia slams UN report on Syria 'war crimes'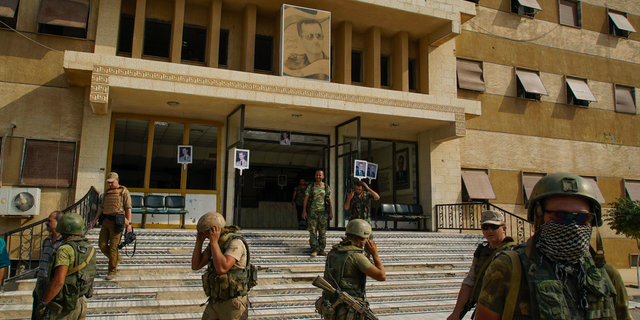 NEWYou can now listen to Fox News articles!
BEIRUT – The Latest on the Syrian conflict (all times local):
5:45 p.m.
Russia has criticized the latest report by U.N. investigators into Syria's war as biased and is denouncing alleged "war crimes" committed by the U.S.-led coalition.
Diplomat Alexey Goltyaev says the 14th Commission of Inquiry report on Syria "doesn't contain a single word about war crimes committed by the U.S. military and its coalition partners during the storming of Raqqa" to battle Islamic State militants.
He didn't elaborate in his brief comments to a Human Rights Council on Monday, and declined to comment further to The Associated Press.
The Sept. 6 report faulted U.S. forces for not taking all steps to protect civilians, but alleged "war crimes" by Syrian and/or Russian forces for "deliberately" attacking medical personnel.
Goltyaev said the commission "has served the interests of its sponsors," allegedly countries who want to oust Syria's Russian-backed government.
___
1:30 p.m.
Opposition activists say Syrian government troops battling the Islamic State group have crossed to the eastern bank of the Euphrates River in Deir el-Zour for the first time since they broke a siege on parts of the eastern city earlier this month.
The Britain-based Syrian Observatory for Human Rights and Omar Abu Laila, who runs a group that monitors developments in Deir el-Zour, say troops crossed from the southern suburb of Jafra on Monday.
U.S.-backed fighters of the Syrian Democratic Forces have been advancing against IS militants along the eastern bank of the Euphrates, while Syrian government forces and their allies are pushing from the west. Government troops were besieged there for nearly three years.
The simultaneous advancements against IS have raised concerns of clashes between SDF and Syrian troops.