The Latest: Russia says its Syria meeting in Sochi delayed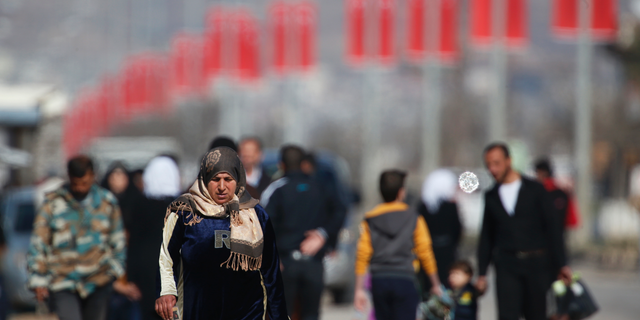 NEWYou can now listen to Fox News articles!
BEIRUT – The Latest on the war in Syria, Turkey's offensive against the Syrian Kurdish militia in the enclave of Afrin and (all times local):
11:20 a.m.
A Russian diplomat says the opening of a Russia-sponsored peace conference for Syria is being delayed.
Russia's Black Sea resort of Sochi is hosting the conference that Moscow describes as an effort to speed up political settlement for the war-torn country.
Russia, a key ally of Syrian President Bashar Assad, says it invited 1,600 representatives to the Syrian Congress of National Dialogue, but so far only the government and opposition representatives tolerated by it have shown up. The main Syrian opposition body has boycotted the talks.
Russian Foreign Ministry spokesman Artyom Kozhin told Russian news agencies on Tuesday that the conference is being delayed but "will start soon."
He confirmed earlier reports of some members of the rebel groups returning to the airport in protest. Kozhin says the Turkish foreign minister assured the Russian foreign minister on the phone earlier this morning that the "matter will be settled."
The Sochi gathering has been overshadowed by reports of intense clashes that erupted on Monday on a strategic hilltop in northwestern Syria as Kurdish forces tried to enter the area a day after it was captured by Turkish troops.
___
10:15 a.m.
Turkey's state-run news agency says senior members of a medical association who spoke out against Ankara's military offensive in a Syrian Kurdish enclave have been detained.
Anadolu Agency says the chief of the Turkish Medical Association and seven others were detained in Tuesday's police operations for breach of Turkey's anti-terror laws. It says prosecutors issued warrants for 11 members of the association.
President Recep Tayyip Erdogan has accused association members of being "terrorist lovers" and his government has cracked down on criticism of the offensive. Turkey considers the Kurdish militia it is fighting in Syria an extension of the outlawed Kurdish rebels inside Turkey.
As many as 311 people were detained in the past week for allegedly engaging in "terrorist propaganda" through social media postings critical of the military operation.