The Latest on MH370: Many relatives don't accept Malaysia's crash finding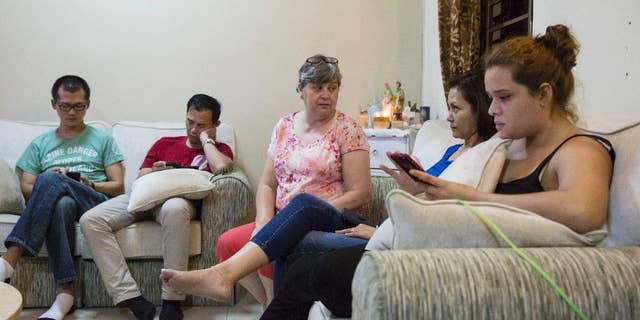 KUALA LUMPUR, Malaysia – The latest on the missing Malaysia Airlines Flight 370 (all times local):
___
11 a.m.
Jiang Hui, whose mother was on board MH370, says there's still a lack of evidence to prove that the plane crashed.
Jiang says: "The finding of debris does not mean the finding of our next of kin."
In Kuala Lumpur, Melanie Antonio — whose husband was a flight attendant on Flight 370 — says she isn't sure how to feel.
"I'm numb, I'm not sad," she says. "It's just a flaperon, it doesn't prove anything. We still need the wreckage to prove. I just want anything that can tell me my hubby is gone."
Jacquita Gomes, also the wife of a flight attendant, echoed that sentiment. "If it's not too much to ask, I still want the remains of my husband."
___
9 a.m.
Families looking for closure after their relatives disappeared aboard Malaysia Airlines Flight 370 last year vent frustration at conflicting signals from Malaysia and France over whether the finding of a plane part had been confirmed.
"Why the hell do you have one confirm and one not?" asked Christchurch, New Zealand, resident Sara Weeks, whose brother Paul Weeks was aboard the flight, which disappeared March 8, 2014, while en route from Kuala Lumpur to Beijing. "Why not wait and get everybody on the same page so the families don't need to go through this turmoil."
___
6 a.m.
The Australian government, which leads the seabed search for wreckage west of Australia, is also less certain than Malaysia, saying in a statement that "based on high probability, it is MH370."
Australia, which has sent an official to France to help examine the flaperon, says the finding will not affect its sonar search of a 120,000-square-kilometer (46,000-square-mile) expanse of seabed more than 4,000 kilometers (2,500 miles) east of Reunion Island. That search, which began in October, has covered almost half that area without finding any clues.
"The fact that this wreckage does now look very much like it is from MH370 does seem to confirm that it went down in the Indian Ocean, it does seem very consistent with the search pattern that we've been using for the last few months," Australian Prime Minister Tony Abbott told Melbourne Radio 3AW.
___
4 a.m.
In a statement, Malaysia Airlines says the part of the plane's wing, known as a "flaperon," which was found on Reunion Island on July 29, has been confirmed to be of Flight 370.
"Family members of passengers and crew have already been informed and we extend our deepest sympathies to those affected," it said.