The Latest: Lawyer in blasphemy case flees Pakistan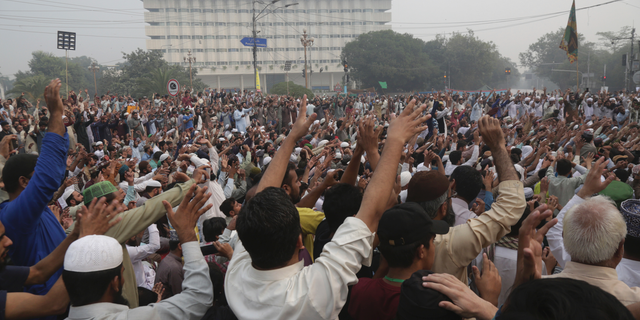 ISLAMABAD – The Latest on the acquittal of a Christian woman who spent eight years on death row in Pakistan after being convicted of blasphemy (all times local):
10:15 a.m.
The lawyer for a Christian woman acquitted of blasphemy charges after spending eight years on death row in Pakistan has fled the country, fearing for his safety.
Asia Bibi's brother, James Masih, said Saturday that her lawyer, Saiful Malook, left Pakistan, without providing further details. Malook's phone was switched off.
Pakistan's top court acquitted Bibi on Wednesday and ordered her release in a move that infuriated the country's hard-line Islamists, who have held nationwide protests demanding her death.
The government reached an agreement with the Islamists overnight in which it agreed to impose a travel ban on Bibi while the case is reviewed.
Malook told The Associated Press earlier this week that he would have to leave Pakistan because the followers of hard-line cleric Khadim Hussain Rizvi had threatened to kill him as well as the judges who acquitted Bibi.
Blasphemy is punishable by death in Pakistan, and the mere rumor of insulting Islam has caused lynchings. Bibi was arrested in 2009 on allegations that she insulted Islam's Prophet Muhammad.
___
11:15 a.m.
Nationwide protests triggered by a Christian woman's acquittal on blasphemy charges have ended following an overnight deal between Islamists and the government.
Under the agreement, Asia Bibi may not leave the country until the Pakistan Supreme Court's ruling is reviewed.
Authorities cleared the intersections of major cities after supporters of the Tehreek-e-Labbaik Party dispersed upon announcement of the agreement.
Religious Affairs Minister Noorul Haq Qadri announced that authorities will now not allow Bibi to leave the country until the Supreme Court makes a final review of its verdict. A petition had already been filed for the review.
Bibi spent eight year on death row.
Meanwhile, Pakistani authorities were making arrangements for the funeral of prominent cleric Maulana Samiul Haq who was killed Friday at his home in Rawalpindi.