The Latest: Kremlin says Putin could meet Erdogan next week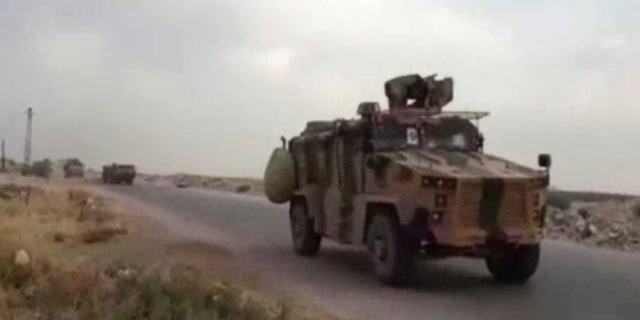 BEIRUT – The Latest on developments related to the war in Syria (all times local):
1:15 p.m.
The Kremlin says that President Vladimir Putin could meet with Turkish President Recep Tayyip Erdogan next week.
Putin's spokesman Dmitry Peskov said Friday that preparations are under way for Putin's meeting with Erdogan in Sochi on Monday. He wouldn't elaborate on the meeting's agenda, but the two leaders are likely to discuss the tensions in Syria's northwestern province of Idlib.
The Syrian army, backed by Russia and Iran, is preparing for a military offensive to reclaim control over Idlib, the last remaining rebel stronghold on the border with Turkey. Turkey strongly warned against the military action, saying it would trigger a humanitarian catastrophe.
Russia has urged Turkey to persuade rebels in Idlib to sever ties with al-Qaida linked rebels in the area.
___
1:10 p.m.
Turkey's military and defense chiefs have visited areas bordering Syria where the country has reinforced troops amid fears of a looming Syrian government offensive on Syria's last rebel-held province of Idlib.
Defense Minister Hulusi Akar and Chief of Military Staff Yasar Guler on Friday inspected troops in the border provinces of Hatay and Gaziantep.
Turkey has been reinforcing the border in recent weeks. Syrian activists meanwhile said new military reinforcements had arrived to beef up Turkish observation points inside Idlib.
The state-run Anadolu Agency reported late Thursday that commando units as well as howitzers, tanks, armored personnel carriers and heavy work machines were sent to the town of Reyhanli, in Hatay province as reinforcements
___
12:20 p.m.
Turkey's foreign minister says his country is still working for a peaceful solution for Syria's rebel-held province of Idlib, adding that President Recep Tayyip Erdogan would hold talks with Russia's Vladimir Putin on Monday.
Turkish media said the two leaders would meet in the Russian city of Sochi.
Speaking during a visit to Pakistan on Friday, Mevlut Cavusoglu said: "We will continue our efforts with Iran and with Russia. ... We will continue our efforts on international platforms as well." His comments were broadcast live on Turkish television.
At a meeting in Tehran last week, the leaders of Russia and Iran backed military operations in Idlib despite pleas from Erdogan for a cease-fire.
Turkey fears a humanitarian crisis in Idlib, which straddles Turkey's borders and is home to more than 3 million people.