The Latest: Israel: Slain Gaza reporter was Hamas militant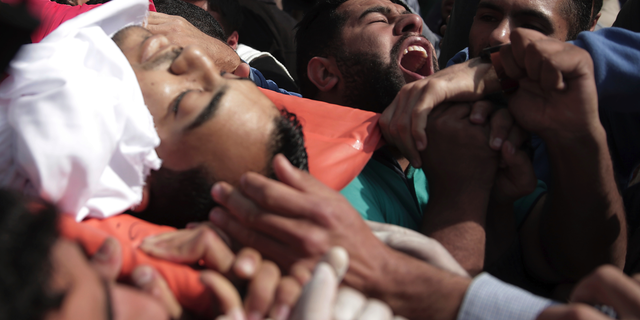 JERUSALEM – The Latest on the Israeli-Palestinian conflict (all times local):
6 p.m.
Israel's defense minister says a Gaza journalist who was killed by Israeli gunfire over the weekend was a Hamas militant.
Yasser Murtaja was shot Friday while covering a mass demonstration near the Israeli border. He was carrying a video camera and wearing a flak jacket marked with the word "press" when he was shot.
Defense Minister Avigdor Lieberman told reporters on Tuesday that Murtaja had been on the Hamas payroll since 2011 and held a rank similar to captain. He said Murtaja had used a drone to collect intelligence on Israeli forces along the border.
He provided no evidence to support the claim.
Lieberman accused Hamas, the militant group that controls Gaza, of using the media, as well as ambulances and medical patients, as cover to carry out attacks.
___
4:40 p.m.
Israel's military says soldiers heard in video footage cheering as a Palestinian is shot during Gaza border clashes will be disciplined.
It said Tuesday an initial probe shows the video was taken in December during "violent riots."
The footage emerged Monday appearing to show a soldier shooting a Palestinian near the Gaza fence as other soldiers are heard cheering when he falls. The military said the man was a main instigator in the clashes and was shot in the leg and wounded.
It said the troops' behavior does not reflect the army's values and they will be dealt with "accordingly," without elaborating.
The Islamic militant group Hamas that rules Gaza is currently leading a campaign of mass protests at the border and 26 Palestinians have been killed since it began two weeks ago.