The Latest: Colombia says ex-FARC leader held in drug probe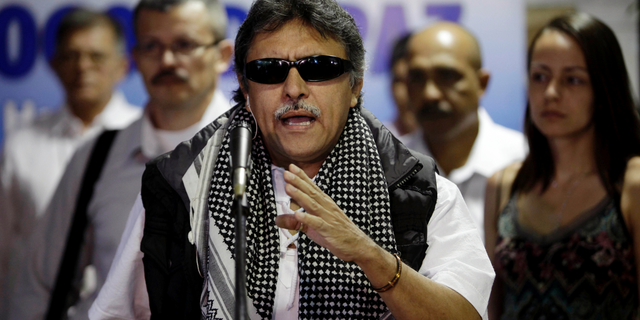 BOGOTA, Colombia – The latest on Colombian authorities arresting a former leader of the disbanded FARC rebel army (all times local):
6:55 p.m.
Colombian President Juan Manuel Santos says he won't hesitate to extradite a former FARC rebel leader arrested Monday as part of a U.S. drug trafficking investigation.
Santos says the man best known by the alias "Jesus Santrich" appears to have violated the terms of the government's peace agreement with the Revolutionary Armed Forces of Colombia. Santos says Santrich allegedly trafficked in cocaine after the December 2016 signing of the accord.
Chief Colombian prosecutor Nestor Martinez says investigators in New York collected electronic evidence indicating Santrich and three others conspired in the second half of 2017 to send 10 metric tons of cocaine to the U.S. with a street value of over $320 million. They allegedly discussed their access to coca fields, cocaine laboratories and U.S.-registered aircraft to smuggle the drugs.