Thai protest leader renews government ouster call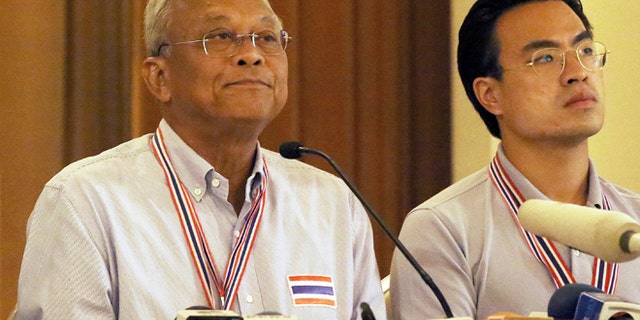 BANGKOK – The leader of Thailand's anti-government movement has pressed calls for the appointment of an unelected prime minister in a televised news conference from the government's compound that has been seized by protesters.
Suthep Thaugsuban called on the Senate to name a new prime minister, arguing that the caretaker, Niwattumrong Boonsongpaisan, has no legitimacy. Niwattumrong took over after Thailand's Constitutional Court removed Yingluck Shinawatra for nepotism in a case that many viewed as politically motivated.
The government wants elections in July to go ahead, but Suthep insists that an unelected prime minister must implement anti-corruption reforms first.
The government has left the compound mostly unused for the past six months for fear of protesters. Last week, soldiers guarding the buildings allowed protesters in to avoid possible violence.