Tens of Thousands in Syria Stage Pro-Assad Rally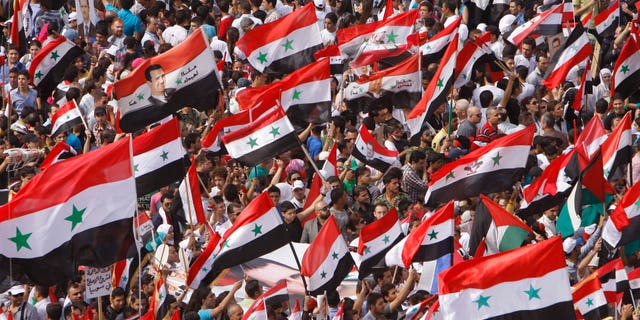 DAMASCUS, Syria-- Tens of thousands of Syrians thronged a main square of the Syrian capital and nearby streets Wednesday in a huge show of support for embattled President Bashar Assad, as he struggles to quell a seven-month-old uprising. Opponents charge such rallies are staged by the regime.
International pressure is building on Assad to step down over his regime's bloody crackdown on anti-government protests that the U.N. says has left nearly 3,000 people dead.
Wednesday's demonstration was intended to show that Assad still enjoys the support of many Syrians. the gathering was huge in comparison with frequent, almost daily anti-regime protests across the country since March which are often met by tear gas and gunfire from police and security forces.
Organizers said the Damascus rally was also meant to thank Russia and China for blocking a U.N. Security Council resolution condemning Syria for its brutal crackdown. Their vetoes last week drew heavy criticism from the U.S.
The demonstrators converged on the Damascus square early Wednesday, waving Syrian flags and pictures of Assad, as well as Russian and Chinese flags.
Some wore white T-shirts with a photo of Assad with the Arabic word "Minhibbak," or "we love you." Previous "Minhibbak" pro-Assad demonstrations have been mocked by the opposition and dismissed as staged events.
Speakers, including school children, read poetry in praise of Assad.
"We support our leader and we do love him," said Lamia Kinani, 50, a housewife, adding that the newly formed opposition Syrian National Council does not represent the Syrians.
The Syrian National Council, formed last week in Turkey, includes most main opposition factions.
No country or international body has recognized it as a legal representative of the Syrian people.
Demonstrator Annas Assad, 23, a university student, denounced the council as a "group of traitors and is a tool of the West."
"Assad will remain in power against their will," he said.
Assad still has the firm loyalty of the armed forces, key to his remaining in power.
His main base of support also includes Syrians who have benefited financially from the regime, minority groups who fear they will be targeted if the Sunni majority takes over, and others who see no clear and safe alternative to Assad.
The Assad regime charges that its opponents are not true reformers; rather, foreign-backed terrorists and agitators. The government claims it is the target of a foreign conspiracy because of its support for anti-Israeli groups like Lebanon's Hezbollah and the Palestinian Hamas, whose leadership is based in Syria.
Although mass protests in Syria have shaken one of the most authoritarian regimes in the Middle East, the opposition has made no major gains in recent months, it holds no territory and its leadership is still fragmented, despite the formation of the new Syrian National Council.