Tears, lingering angry mark 1st anniversary of South Korean ferry disaster that left 300 dead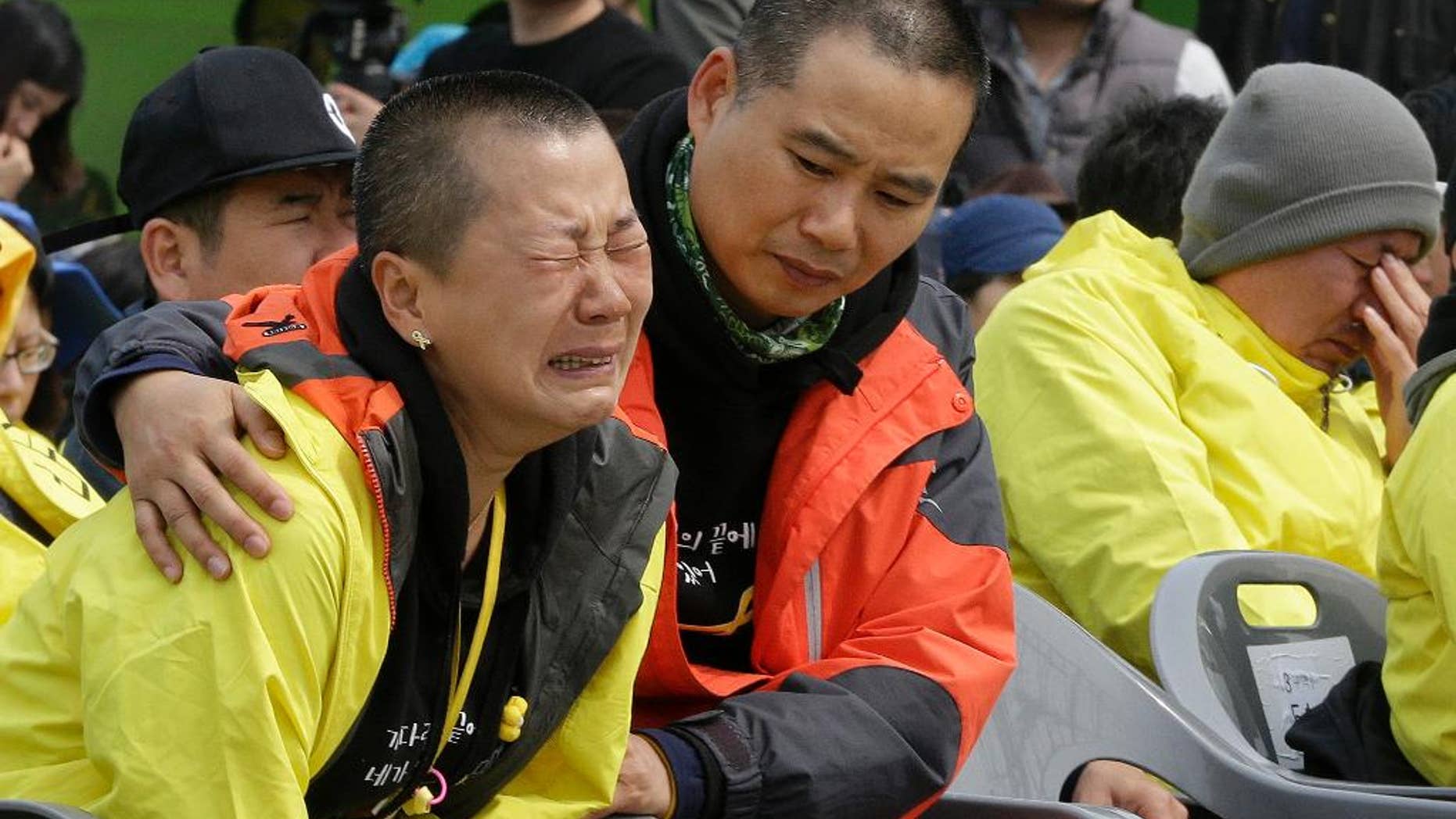 SEOUL, South Korea – With tears, lowered flags and still-fresh anger, relatives mourned the 300 people, mostly high school kids, killed one year ago when the ferry Sewol sank in cold waters off the southwestern South Korean coast.
In contrast to the near universal grief and rage of a year ago, the first anniversary of one of the nation's worst disasters arrives with more complicated emotions.
There's widespread frustration among many South Koreans who see their government as having failed to meaningfully improve safety standards and hold high level officials accountable for a disaster blamed in part on incompetence and corruption.
Some also express fatigue, or even indifference or anger, with relatives of the dead and their continual expressions of outrage and grief.
Hundreds of relatives and their supporters gathered at a small port near the site of the sinking to honor the victims. Flags in public buildings were lowered to half-staff and a minute of silence was observed in Ansan, the city that lost nearly an entire class of high school students on a doomed field trip to a southern resort island.
The city was expecting thousands of visitors at an afternoon memorial service at its mourning site, where Prime Minister Lee Wan Koo visited in the morning, only to be turned back by angry relatives protesting the government's handling of the sinking.
South Korean President Park Geun-hye was expected to meet the grieving relatives before leaving for a trip to Colombia later in the day. A total of 304 people died when the ferry Sewol sank.
South Korean lawmakers on Thursday adopted a resolution urging the government to salvage the ferry.
The lawmakers also had paid silent tributes to the victims before voting on the resolution, according to National Assembly officials.
A total of 165 lawmakers were present at a National Assembly session and 161 of them voted to adopt the session, two voted against it and two others abstained from the voting.