Taxi drivers in Brazil's capital stage massive protest against Uber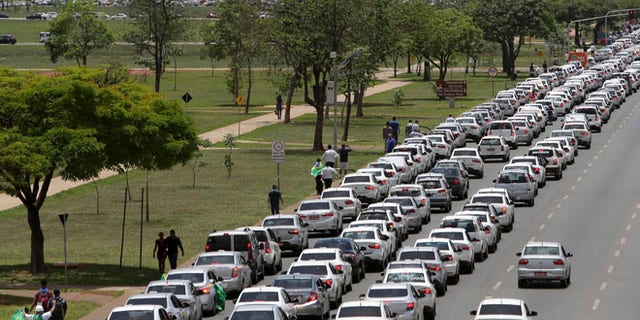 NEWYou can now listen to Fox News articles!
BRASILIA, Brazil (AP) – Taxi drivers from around Brazil staged a protest in the capital Tuesday against the presence of Uber, demanding that it be prohibited.
More than 1,000 drivers, many in their vehicles, showed up in front of Congress in a particularly colorful protest, with many taxis painted different colors for various Brazilian cities.
The drivers called on Congress to ban the U.S.-based company from operating in Latin America's largest nation. Many taxi drivers complain that Uber has led to big drops in their incomes as customers use the Uber app to find cheaper rides from private drivers.
Uber is currently in a handful of Brazil's largest cities, including Sao Paulo, Rio de Janeiro and Brasilia. The company has said it views Brazil and other parts of Latin America as growth areas.
Like us on Facebook
Follow us on Twitter & Instagram