Taiwan becomes first in Asia to legalize same-sex marriage
NEWYou can now listen to Fox News articles!
Taiwan's parliament voted to legalize same-sex marriage Friday, becoming the first in Asia with a comprehensive law that both allows and lays out the terms for couples from the same sex to get married.
Parliament voted 66-27 in favor of a government-sponsored bill that recognizes same-sex marriages and gives couples many of the tax, insurance and child custody benefits available to male-female married couples.
"#Taiwan's action today should sound a clarion call, kicking off a larger movement across #Asia to ensure equality for LGBT people and pro-active protection of their rights by governments throughout the region," Phil Robertson, deputy Asia director for Human Rights Watch, wrote on Twitter. "No more excuses!"
MORMON CHURCH OPPOSES LGBT NONDISCRIMINATION MEASURE
Taiwan's Constitutional Court ruled in May 2017 that the constitution allows same-sex marriages and gave parliament two years to adjust laws accordingly. Friday's vote came just short of the May 24 deadline after almost two years of heavy lobbying from both sides.
"It's a breakthrough, I have to say so. I could not imagine that could happen in just a few years," Shiau Hong-chi, professor of gender studies and communications management at Shih-Hsin University in Taiwan, told the Associated Press.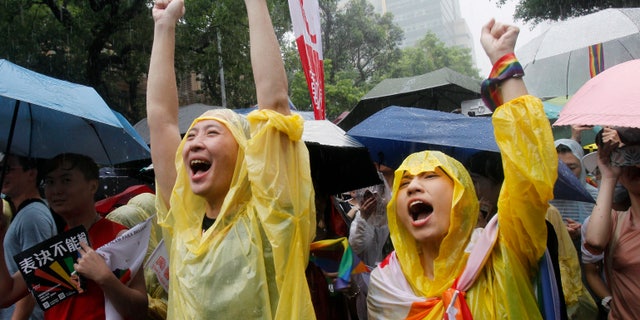 Thousands of people, including same-sex couples, demonstrated Friday outside of the parliament building in the capital city of Tapei. Many carried rainbow-colored placards reading "the vote cannot fail."
Lawmakers considered two other bills submitted by conservative lawmakers that referred to partnerships as "same-sex family relationships" or "same-sex unions" instead of "marriages," BBC News reported.
"The [government]'s bill is already our bottom line, we won't accept any more compromise," Jennifer Lu, chief coordinator of rights group Marriage Equality Coalition Taiwan, told Reuters.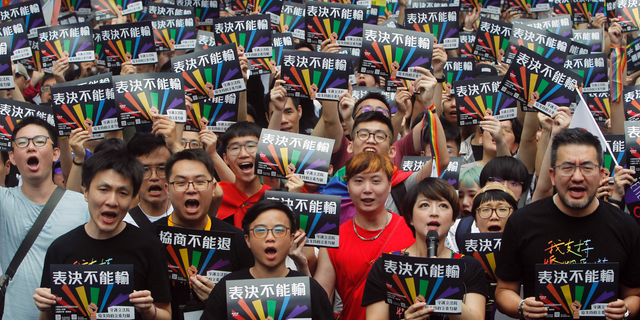 Ultimately, the governing body passed the most progressive of the three bills, the only one to include limited adoption right to married same-sex couples, which was proposed by lawmakers from the majority Democratic Progressive Party.
Opponents in Taiwan raised fears of incest, insurance scams and children confused by having two mothers or two fathers. Both sides of the issue have held colorful street demonstrations and lobbied lawmakers.
CLICK HERE TO GET THE FOX NEWS APP
Religion, conservative values and political systems that discourage LGBT activism have stopped momentum toward same-sex marriage in many Asian countries from Japan through much of Southeast Asia, although Thailand is exploring the legalization of same-sex civil partnerships.
Although claimed by China as its own territory, Taiwan is a self-governing democracy with a vibrant civil society dedicated to promoting rights for sexual and ethnic minorities, women, the handicapped and others.
Ruled by the authoritarian Communist Party, China remains much more conservative and officials have repeatedly discouraged even the discussion of legalizing same-sex marriage.
The Associated Press contributed to this report.