Syrians Flee to Lebanon as Death Toll Rises to 20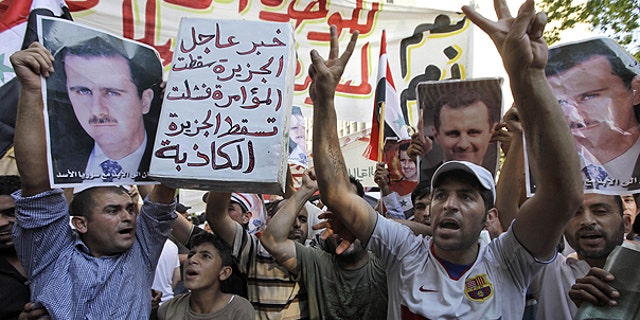 BEIRUT – Hundreds of Syrians, some with gunshot wounds, crossed into neighboring Lebanon in search of a refuge from the growing government crackdown in their homeland, a Lebanese security official said Saturday. Other Syrians marched in a funeral for victims of the crackdown outside Damascus, demanding President Bashar Assad's ouster.
Most refugees arriving at the Lebanese border came after Syrian security forces opened fire on protesters in anti-regime demonstrations across Syria on Friday. Syrian activists said 20 people were killed, including two children aged 12 and 13.
Most of those deaths occurred in the Barzeh neighborhood of the capital, Damascus, and in the suburb of al-Kaswa. Footage posted online by activists showed dozens of people in a funeral procession for three of the dead in al-Kaswa Saturday, shouting "Allahu Akbar!" or "God is great!" and "Bashar, get out!"
The army sent reinforcements into Barzeh on Saturday, setting up checkpoints and arresting about 150 people, as well as into the suburbs of al-Kaswa, Zabadani and Bloudan, said Rami Abdul-Rahman of the London-based Syrian Observatory for Human Rights.
Others had died Friday when security forces opened fire in the central city of Homs, sending residents fleeing to the Lebanese border 20 miles away.
The Syrian opposition says some 1,400 people have been killed as the government has cracked down on a movement demanding an end to four decades of autocratic Assad family rule -- a popular uprising renewed each Friday after weekly Muslim prayers.
A prominent Syrian opposition figure, meanwhile, said some 200 regime critics and intellectuals will meet in Damascus on Monday to discuss strategies for a peaceful transition to democracy.
The one-day gathering will be the first such meeting of Damascus-based regime opponents, many of whom have long been persecuted by the Assad government.
Dissident Louay Hussein said Syrian authorities had not objected to the meeting. It will come one week after President Assad, in a nationally televised speech, spoke of convening his own national dialogue to discuss political reforms.
The activist Abdul-Rahman reported, meanwhile, that Syrian troops, backed by tanks, had entered yet another village, al-Najieh, near the border with Turkey, as part of their sweep against dissident centers in Idlib province.
The violence has prompted thousands of Syrians to seek a safe haven in neighboring countries. Up to 1,000 crossed Friday and overnight into northern Lebanon's Akkar region, near Wadi Khaled, a Lebanese security official said. Most crossed into the border village of Kneiseh from the Syrian village of al-Quseir, where Syrian activists said security forces fired on protesters Friday.
At least six Syrians with gunshot wounds were among the arrivals, the Lebanese official said, speaking on condition of anonymity in line with military regulations. The wounded were receiving treatment in Akkar hospitals.
The new arrivals join thousands of other Syrians who fled to Lebanon in May and early June, most during the Syrian military's crackdown on the border town of Talkalakh, a few minutes' walk from Lebanon's Wadi Khaled.
Unlike the earlier exodus, when the displaced Syrians camped out on the Lebanese side of the border, many new arrivals were staying with relatives or elsewhere in Beirut, the Lebanese official said. He said some who crossed Friday returned early Saturday.
The military's recent sweep through northwestern Syria, where armed resistance flared in early June, also has sent more than 11,700 refugees fleeing across the border to refugee camps in Turkey.
Syrian authorities have called on the refugees to return, after regaining control over the restive region in northern Syria's Idlib province, but most have rejected the offer, fearing arrest or persecution upon return.
Turkey's Anatolia news agency quoted the head of the Syrian Red Crescent, Abdurrahman Attar, as telling Turkish journalists in Damascus that his organization wanted to visit the camps to speak to those who want to return to Syria.
He was quoted as saying his humanitarian organization would guarantee that Syrian security agencies will leave returnees alone. "They will not be called to account," he said.
One refugee on the Turkish side told The Associated Press he remained suspicious. "They want to see which of the families escaped and came here," said this man, who wouldn't give his name.
Hussein, a prominent Syrian writer and opposition figure, said Monday's planned consultations by 200 regime opponents would take place under the slogan, "All for Syria within a civil and democratic state."
Syrian authorities were informed of the meeting, but there would be no government representation, he told the AP.
"Three months into the protest movement and the government crackdown, the time is now ripe for such a meeting," he said.
He said he hoped the fact the government was not blocking it reflects a will to allow some freedom of expression.
Whether such a meeting might produce partners for President Assad's proposed "national dialogue" remains to be seen.
In his speech last Monday, Assad said he was forming a committee to study constitutional amendments, including one that would open the way to political parties other than the ruling Baath Party. He said a package of reforms was expected by September or no later than the end of the year.
Two days later, his foreign minister, Walid Moallem, told reporters Damascus would soon present "an unprecedented example of democracy" in the troubled Middle East. He called for regime opponents to "to be a partner in shaping the future."
Some prominent dissidents rejected such overtures, however, citing what they said was previous Assad talk of reform that produced no political change.