Syrian suicide bomber kills at least 10, many foreigners, in Istanbul
An ISIS terrorist blew himself up in a popular tourist district of Istanbul Tuesday, killing at least 10 people – all of whom were foreigners and nine of whom were German nationals – and wounding at least 15 others.
Peru's foreign ministry said the attack killed one Peruvian man and wounded a Peruvian woman. At least six Germans were among the wounded, Turkish news agency Dogan reported, and Seoul's Foreign Ministry told reporters via text message that one South Korean had a finger injury. The Norwegian Foreign Ministry told Norway's news agency NTB that a Norwegian tourist was slightly hurt and was being treated in a local hospital.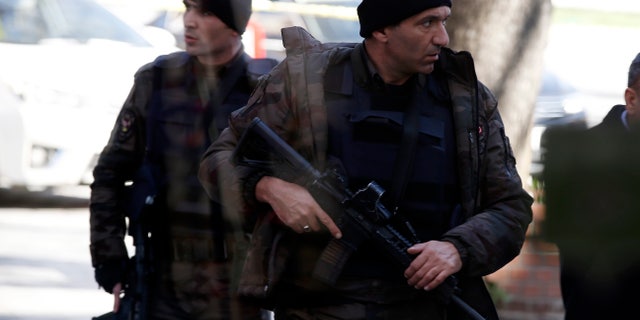 The bomber was a 28-year-old Syrian national who was not on Turkey's terror watch list, Turkish Deputy Prime Minister Numan Kurtulmus said.
Deputy Prime Minister Numan Kurtulmus had previously said the perpetrator was born in 1988 and was a Syrian national, but Dogan claimed the bomber was Saudi-born.
"Turkey won't backtrack in its struggle against Daesh by even one step," Davutoglu said, referring to ISIS by its Arabic acronym. "This terror organization, the assailants and all of their connections will be found and they will receive the punishments they deserve."
Authorities in Germany and Denmark warned citizens visiting Turkey to avoid crowds outside tourist attractions in Istanbul. German officials said on a government website that further violent clashes and "terrorist attacks" are expected across Turkey. Germany also urged travelers to stay away from demonstrations and gatherings, particularly in large cities.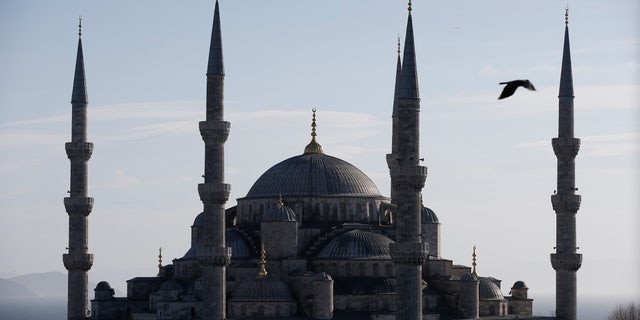 The U.S. condemned the "heinous attack" in "Istanbul's historic heart."
"We stand together with Turkey, a NATO ally, a strong partner and a valued member of the Counter-ISIL coalition, in the face of this attack and pledge our ongoing cooperation and support in the fight against terrorism," a statement from National Security Council spokesperson Ned Price said.
The explosion, which could be heard from several neighborhoods, was at a park that is home to a landmark obelisk, some 25 yards from the historic Blue Mosque.
Sultanahmet is Istanbul's main sightseeing area and includes the Topkapi Palace and the Haghia Sophia museum.
Omer Celik, the spokesman for Prime Minister Ahmet Davutoglu's ruling party issued a statement condemning what he called "a heinous attack." Davutoglu convened a security meeting immediately following the explosion with the country's interior minister and other officials.
As with previous attacks, authorities imposed a news blackout, barring media from showing images of the dead or injured or reporting any details of the investigation.
Police sealed the area of the explosion, barring people from approaching in case of a second explosion and a police helicopter hovered overhead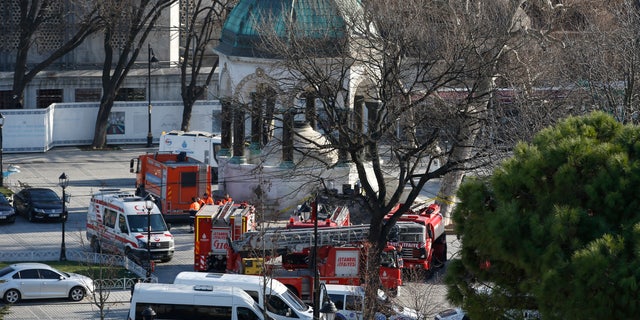 The explosion was set off at approximately 10:20 a.m. local time, according to the Hurriyet newspaper.
Erdem Koroglu, who was working at a nearby office at the time of the explosion, told NTV television he saw several people lying on the ground following the blast.
"It was difficult to say who was alive or dead," Koroglu said. "Buildings rattled from the force of the explosion."
Turkey suffered two major bombing attacks last year.
More than 30 people were killed in an ISIS suicide attack in the town of Suruc, near Turkey's border with Syria, in July.
Two suicide bombs in October outside Ankara's main train station as people gathered for a peace rally killed more than 100 people. It was Turkey's deadliest attack. The prosecutor's office said the attack was carried out by a local ISIS cell.
Last month, Turkish authorities arrested two suspected ISIS militants they said were planning suicide bombings during New Year's celebrations in the capital.
The Associated Press contributed to this report.