Syrian rebels say airport is legitimate target as fighting continues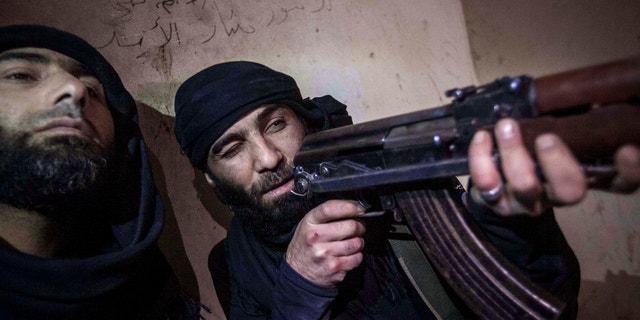 BEIRUT – Syrian rebels fighting to topple President Bashar Assad declared Damascus International Airport a "legitimate target" Friday in a bid to cut off regime supplies, as clashes between government troops and rebels forced the closure of the airport road for the second time this week.
Fighting around the Syrian capital and the airport has intensified in recent days as rebels press a battle they hope will lead to the collapse of Assad's regime after 20 months of conflict. They have set their sights on the city of 1.7 million, and fighting on the outskirts is raising fears that it soon could be facing the most brutal battle of the Syrian civil war.
The rebels issued a stern warning to the regime and travelers planning to use the country's main airport, just a few miles south of the capital. Loss of control of the airport would be a major blow to the regime.
A fighter who is part of the push against the airport declared it a legitimate target, claiming that the regime has stationed troops and elite forces in it as well as military planes that transport ammunition.
The clashes already have forced the suspension of commercial flights in the past week, although airport officials said Friday the facility was still functioning.
Rebels said they were trying to cut military supplies to the regime. Iran and Russia are widely believed to be supplying the regime with weapons through the airport. Over the past months, Turkey and Iraq stopped several planes coming from those two countries that were headed to Damascus and searched them.
"This would send a very strong political message to the regime, it will be a moral victory, to say the least," said the fighter, who gave only his first name, Nour, for security reasons. "The battle to cut off the regime supplies from the airport has started."
Another rebel, speaking on condition of anonymity for the same reason, said the airport is now considered a "military zone."
"We urge civilians to stay away," said the rebel, a member of the Damascus area military command involved in Friday's fighting.
An airport official said the highway leading to the facility was closed Friday because of the fighting. The officials said, however, that the airport was functioning as normal and that people were reaching it through side roads.
The official declined to be identified because he was not authorized to give official statements.
U.N. Secretary-General Ban Ki-moon, meanwhile, renewed a call on Syria Friday not to use chemical weapons, saying their use would amount to an "outrageous crime in the name of humanity."
Ban spoke to reporters after a visit to refugee camps in Jordan and Turkey for Syrians who have fled the violence.